Student Induction Programme 2022-23
Student Induction Programme (SIP) was organized from 30th June to 9th July 2022 for all the newly admitted students of S N Mudbidri Polytechnic. This is conducted to help new students adjust and feel comfortable in the new environment, inculcate in them the ethos and culture of the institution, help them build bonds with other students and faculty members, understand the new teaching-learning methodologies and expose them to a sense of larger purpose and self-exploration. Such programmes are conducted with a purpose of reducing dropouts and absenteeism, and also to increase the student commitment and learning satisfaction.
A brief report on the sessions conducted on all days is presented below.
Date : 30.6.2022 : Thursday
Time 10am -11.30am - Inaugural session
Principal, Sri. J J Pinto explained the purpose of SIP and welcomed the gathering. Governing Council Chairman, Sri. K Abhayachandra Jain inaugurated the SIP and addressed the fresher's about the purpose and inception of the Polytechnic in 1984. He briefed the selfless services of S N Mudbidri in establishing the Polytechnic. He appealed to the students to work hard and realize the dreams of the founders. Deputy Chairman Sri. S D Sampath Samrajya motivated the students with examples of inspirational personalities.
11.45- 12.45: Principal's address
Sri. J J Pinto, Principal informed the students about the structure of Polytechnic and its management, student culture, opportunities and facilities available for students in the Polytechnic. The various curricular and extracurricular activities practiced in the institution were also mentioned. He stressed on the discipline of students in the institution and outside. He informed the students about the rules and regulations of the polytechnic, implications for violation, students' participation in curricular and extra-curricular events for all round growth of the students and how to excel in their academics and careers.
2PM- 4PM : Talent search rules & details
Sri. Suresh D B, SWO explained about the Talents exhibition on the last day of SIP and invited them to participate. The purpose of the talent exhibition was to identify and nurture such talents. The various kinds of performances that students can exhibit were informed. Sri. Suresh D B informed them about the entire event, explained the importance of participation and how to participate in such programmes.
3PM to 4PM : Discussion among students
The students were asked to mingle with others and discuss about the talent programmes they would perform during talents exhibition. They were asked to speak to others to form their own teams.
Date : 01.07:2022 : Friday and 02.07.2022 Saturday
Time : 10am – 12pm and 2pm to 4 pm
Three students groups were formed randomly.
Three parallel sessions of 120 minutes each on Universal Human Values by Dr. S P Gurudas, Lecturer SNMP, Life Skills by Sri. Ramprasad M , Lecturer & NSS officer, SNMP and Professional Ethics and Expectation from Industries by Dr. A A Abdul Khader, Retd Principal, KPT Evening Polytechnic Mangalore were conducted on rotation for three groups.
Date : 04.07:2022 Monday
Time : 10am- 12noon : Environment concerns
Sri. Dinesh Holla, renowned Environmental Activist explained in detail the importance of environment and the concerns especially the Western Ghats. He explained the deteriorating condition of the environment and appealed to the youth and young students, their role in protecting the environment. He shared his experiences in the movement of environment protection.
2pm to 4pm : Life Skills
Life Skills session was continued for the students with plenty of games and activities by Mr. Ramprasad M, Lecturer and NSS Officer, SNMP. The life skills listed by WHO which are very important for every individual were demonstrated. All the students actively participated with lot of enthusiasm.
Date : 05.07:2022 Tuesday
Time : 10am- 11am : Placement activities
Employment opportunities for diploma holders of different programmes was explained by the placement officer, Sri. Gangadhara K B. Industry expectation from students, important skills required besides the technical skills, etiquettes and manners, learning to learn skills, preparation for the placement opportunities, steps and process of placement was highlighted by the placement team of the polytechnic.
11am – 12 Noon: Scholarships & Govt facilities
Sri. Narayan Naik, Retd. Teacher explained the various scholarships available for students under various categories. He also mentioned different government schemes for students and the procedure to avail these facilities.
2pm to 3pm : Experience sharing by old student
Sri. Arjun Joshi, Asst. professor, Alumnus of the Polytechnic of 2016 batch, shared his experience and the motivation he derived in this Polytechnic to reach where he is now. He was very humble in attributing his entire success to his teachers in particular and the institution in general. He shared the importance of participation in extra and co-curricular activities in the institution to build confidence and self-esteem which is important in today's competitive world.
Date : 06.07:2022 Wednesday
Time : 10am- 11am : College activities
Sri. Ramprasad, Lecturer, Dept. of E&E Engg highlighted various activities besides academics that are held in the college for the all-round growth of the students. Significance of activities such as Ayudha Pooja, Sports meet, Teachers' day celebration, Talents day, Annual day celebration, Red Cross activities, NSS activities and special camp, UBA activities, Kaushalyam, field visits, industry visits and other activities were explained. He appealed students to make best use of the opportunities.
11am to 12 Noon : Civic duties & responsibilities
Sri. Muniraja Renjala, Retd. Head Master, shared his views on the importance of civic duties and responsibilities. He stressed on the issues and the implications of not following them. He also mentioned the conduct of people in public so as to not harm others. He humorously shared his views on why every individual needs to respect others while practicing our rights supplementing with quotes. He shared few incidences which the youth need to seriously think about.
1.30 Pm to 4.30 Pm : Teams tasks
15 Teams of 18-20 students in each were formed. This activity was conducted to make the students understand the importance of working in teams. Technical education emphasizes on team building and team tasks, this activity was to learn the various team dynamics. Each team was asked to visit one of the many departments in the polytechnic and they were asked to collect as much information as they could related to that department. They were asked to compile the collected information and present it to the audience. Prizes were announced to motivate the student teams. The students participated enthusiastically. This activity was conducted to boost their confidence besides learning the functioning of other departments.
Date : 07.07:2022 Thursday
Time : 10am- 12.30Pm : Visit to departments, interaction with faculty, present and old students
The students were invited to their concerned departments. The heads of the departments and faculty members introduced themselves to the students. The students were made to visit the laboratories. The students were introduced to various courses they have to undergo, the attendance requirements, CIE and end exam, promotion criteria, laboratory activities and submission etc. Interactions with present and old students of the departments was also arranged. The present and old students shared their experiences and answered queries. Schedule of classes and labs was informed to the fresher's.
2pm to 3pm : Experience sharing by old student
Dr. Melwyn DSouza (I vice President, Lion Dist. 317D), Adjunct faculty, St. Joseph's Engineering College, an Alumnus of S N Mudbidri Polytechnic, 1998 batch was invited to share his experiences with the newly admitted students of SNMP. He shared the background and purpose of opting to choose diploma in computer science at S N Mudbidri Polytechnic. He explained the academic career path he traversed all along from diploma till Ph.D. He said the students should have strong determination and not lose focus. He attributed his achievements to the strong foundation that was laid at S N Mudbidri Polytechnic.
Date : 08.07:2022 Friday
Time : 10am- 4Pm : Personality Development Programme
The President and members of JCI Krishnapura conducted a full day programme on personality development for students. The entire programme was conducted in four sessions by different members of JCI, Krishnapura. The following topics were taken up:
· Present yourself – dress to impress by Sri. Adarsh Shetty, Past President
· Team building by Sri. Sharath, Past President
· Social Media Etiquettes by Dr. Sampath Kumar
· Emotional Management by Sri. Lakshmish
The sessions were conducted with activities. Students participated in the activities enthusiastically.
Date : 09.07:2022 Saturday
Time : 10am- 2Pm
Valedictory and talent Exhibition was organized at 10am onwards. Some of the fresher's shared their experiences and views on the entire SIP. Most of them appreciated the conduct of SIP. Principal Sri. J J Pinto made his remarks and observation on SIP and asked the students to feel comfortable during their association with the institution and teachers. He also informed them to take the support of mentors/counsellors under any adverse/problematic situations. Senior student volunteers who helped in the conduction of SIP were recognized. All the staff members who were responsible in conduction of the programme were recognized. Coordinator Sri. Ramprasad was congratulated for effectively coordinating the SIP.
It was very encouraging to see many of the fresher students participating in the talent exhibition programme. Sri. Suresh D B, SWO conducted the Talent Exhibition. One lucky student of each branch was gifted with a calculator sponsored by the staff of respective departments. Senior student volunteers performed entertainment and they presented a video on the entire SIP programme.
The SIP concluded with vote of thanks by Sri. Ramprasad.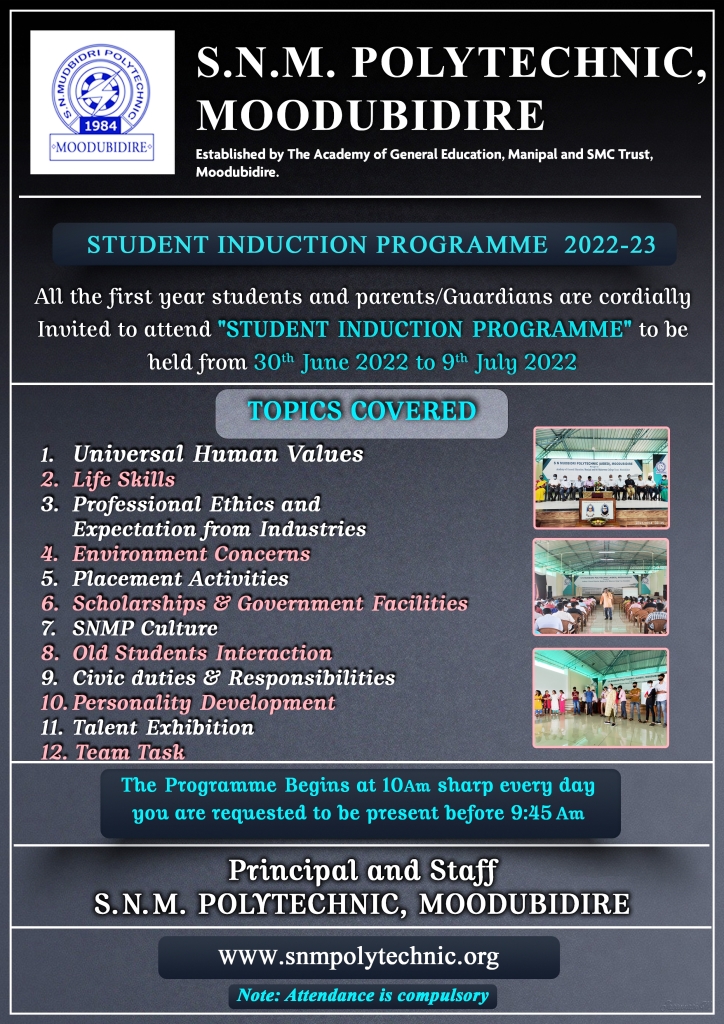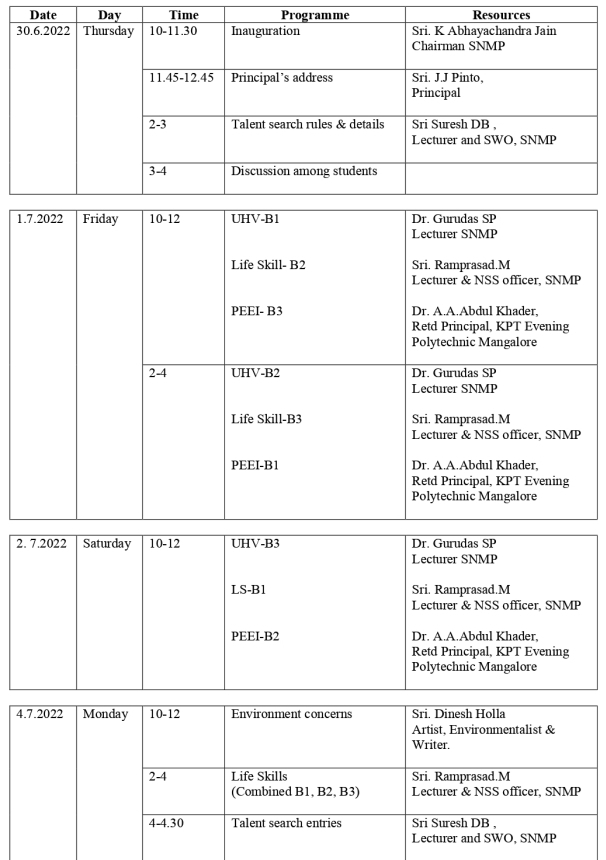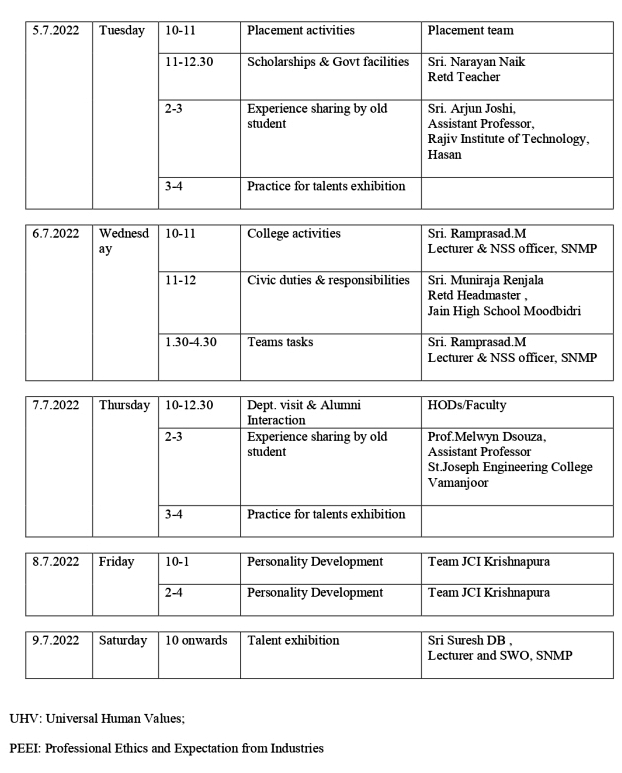 INAUGURATION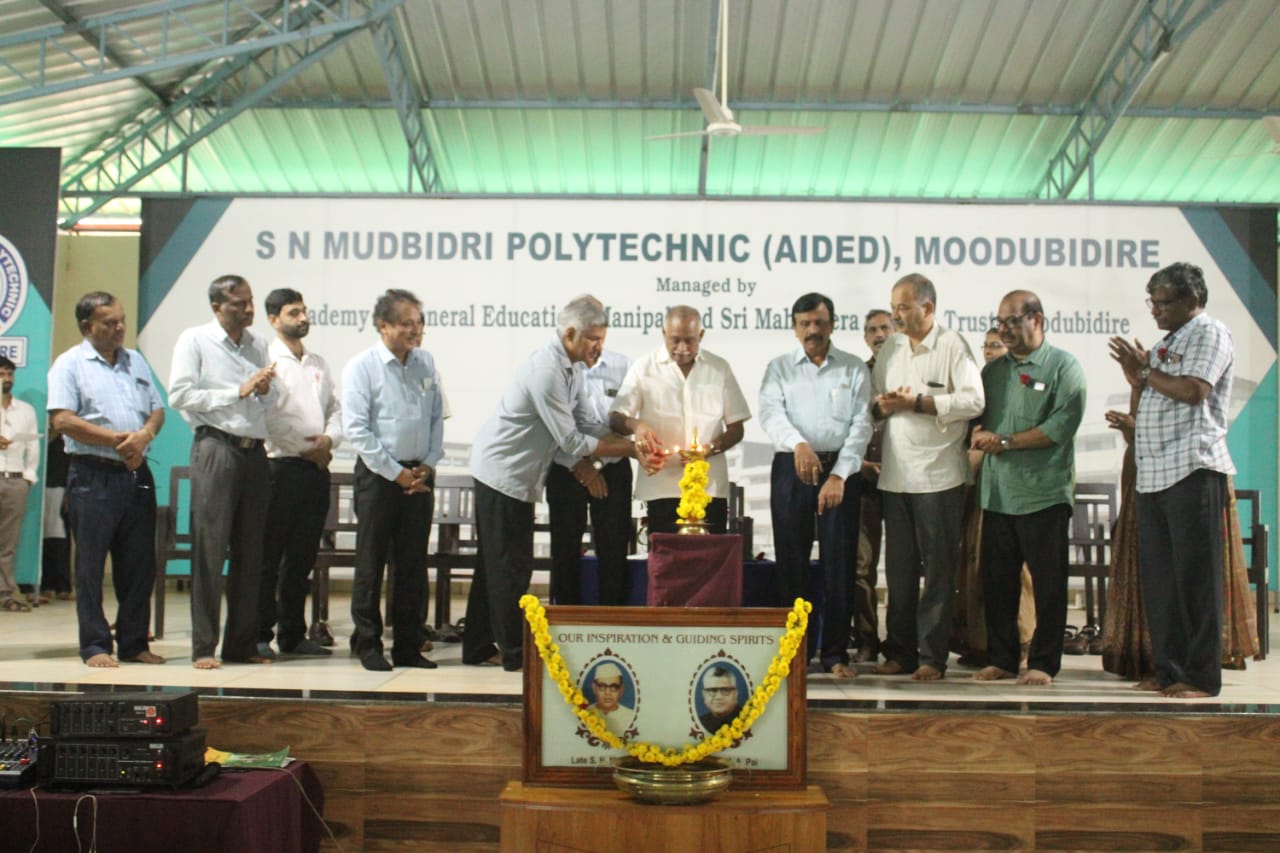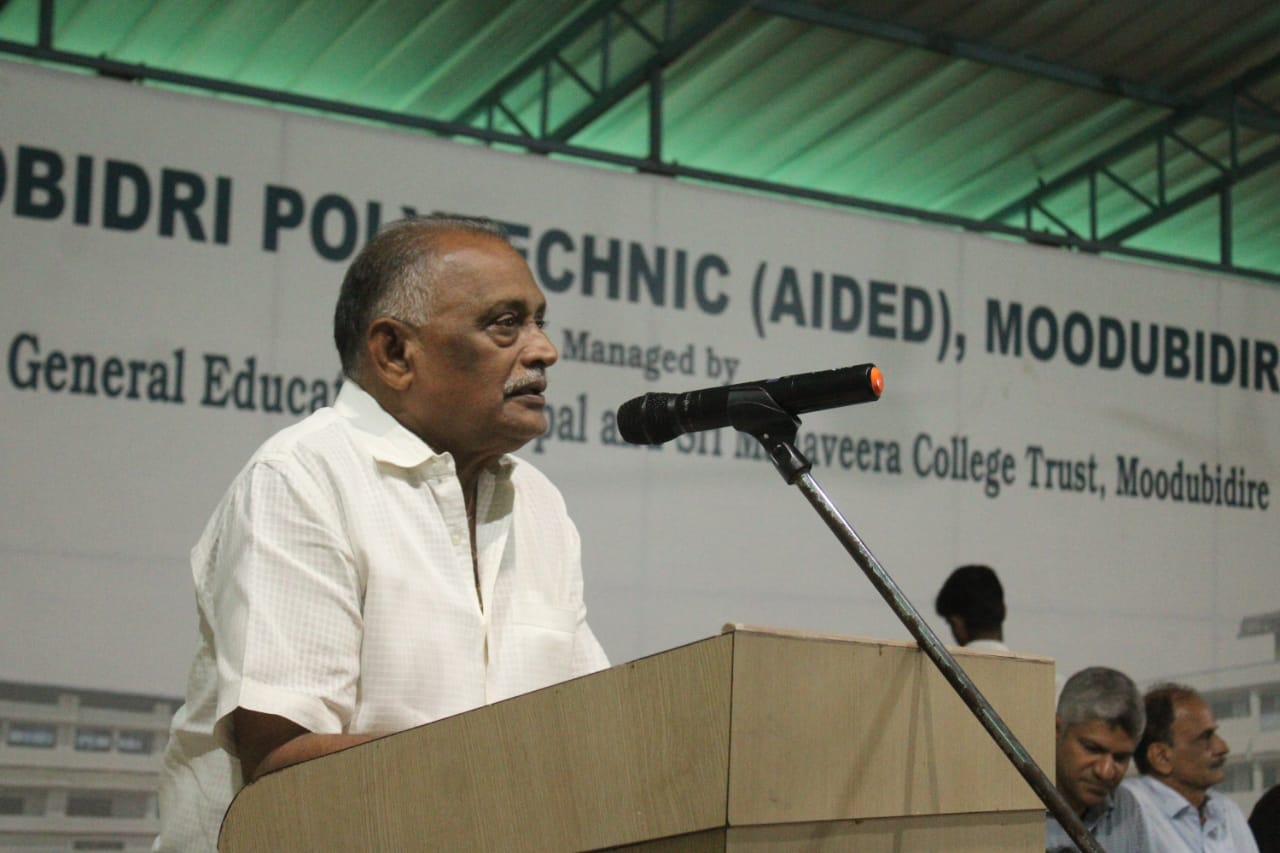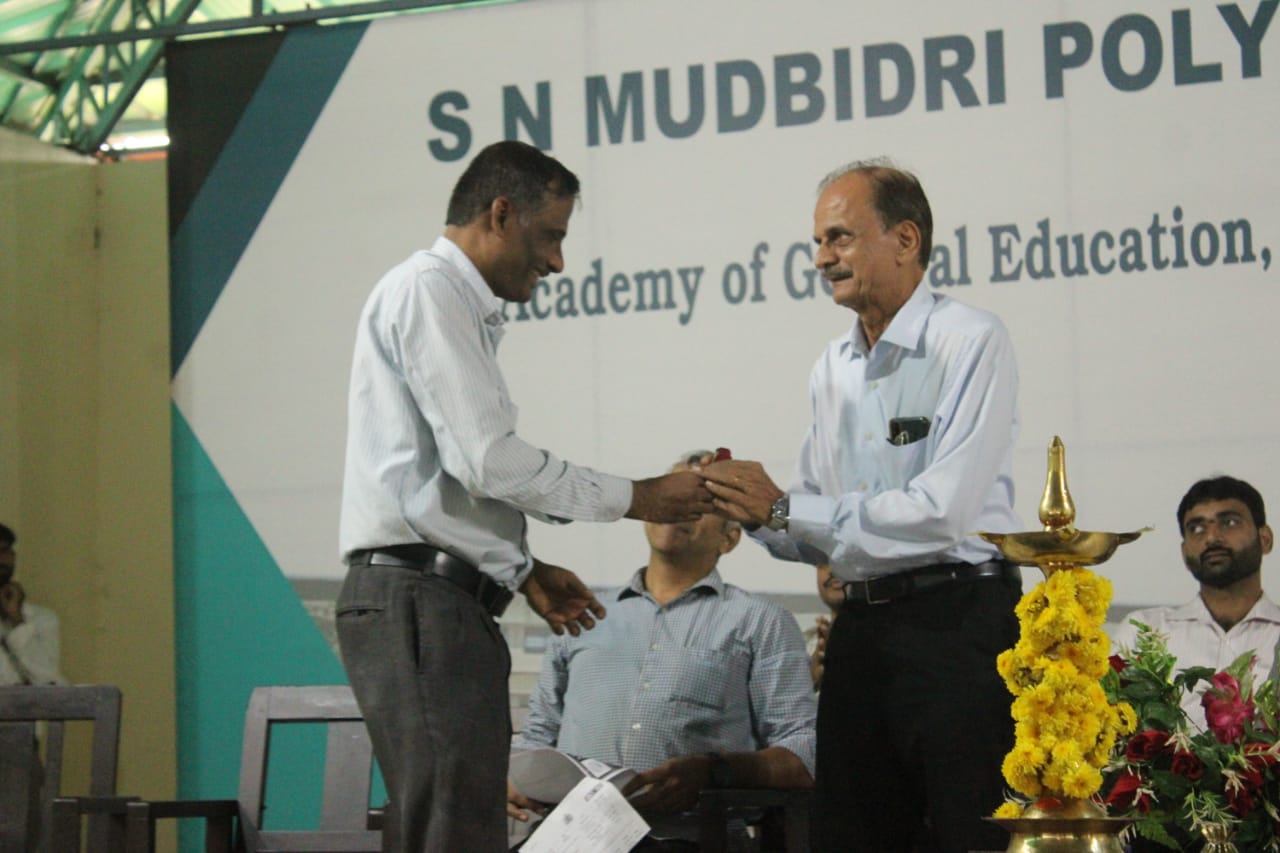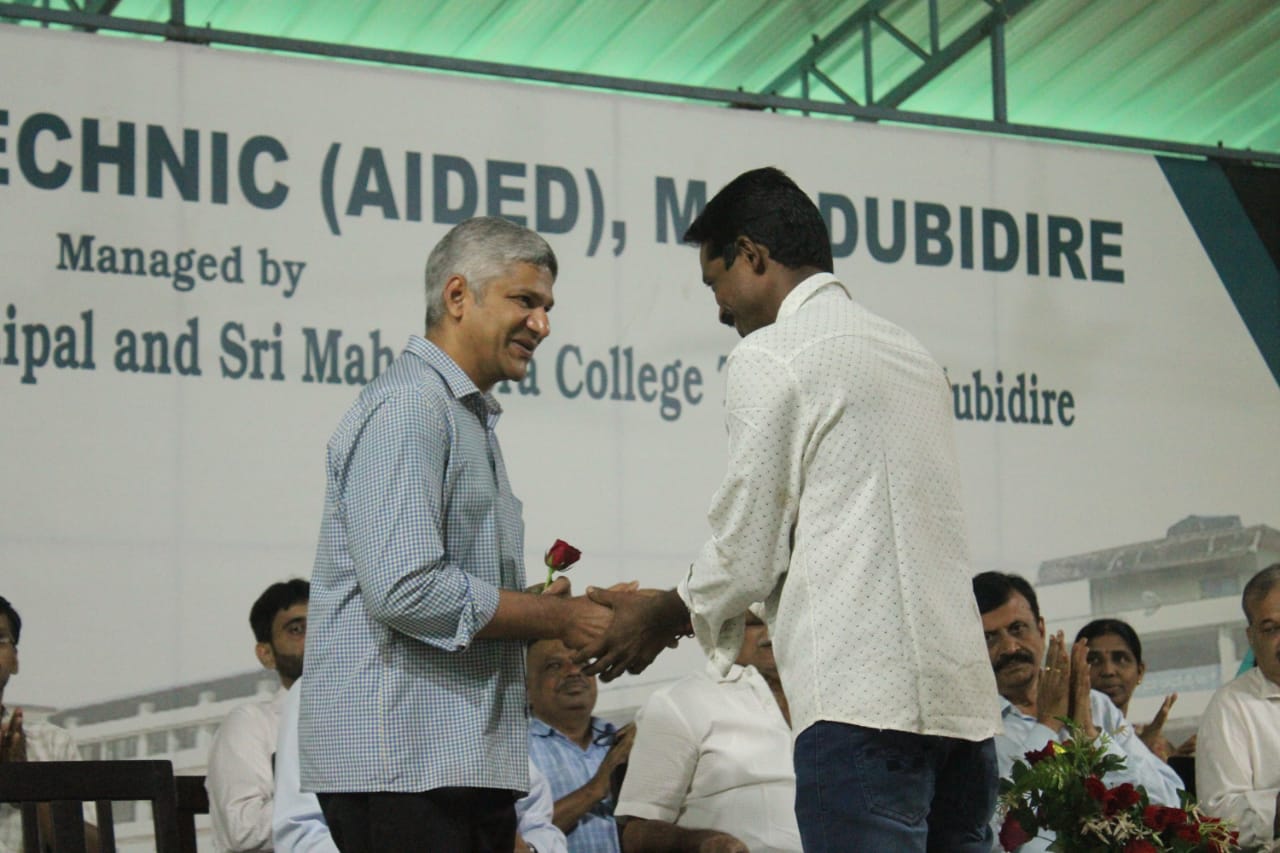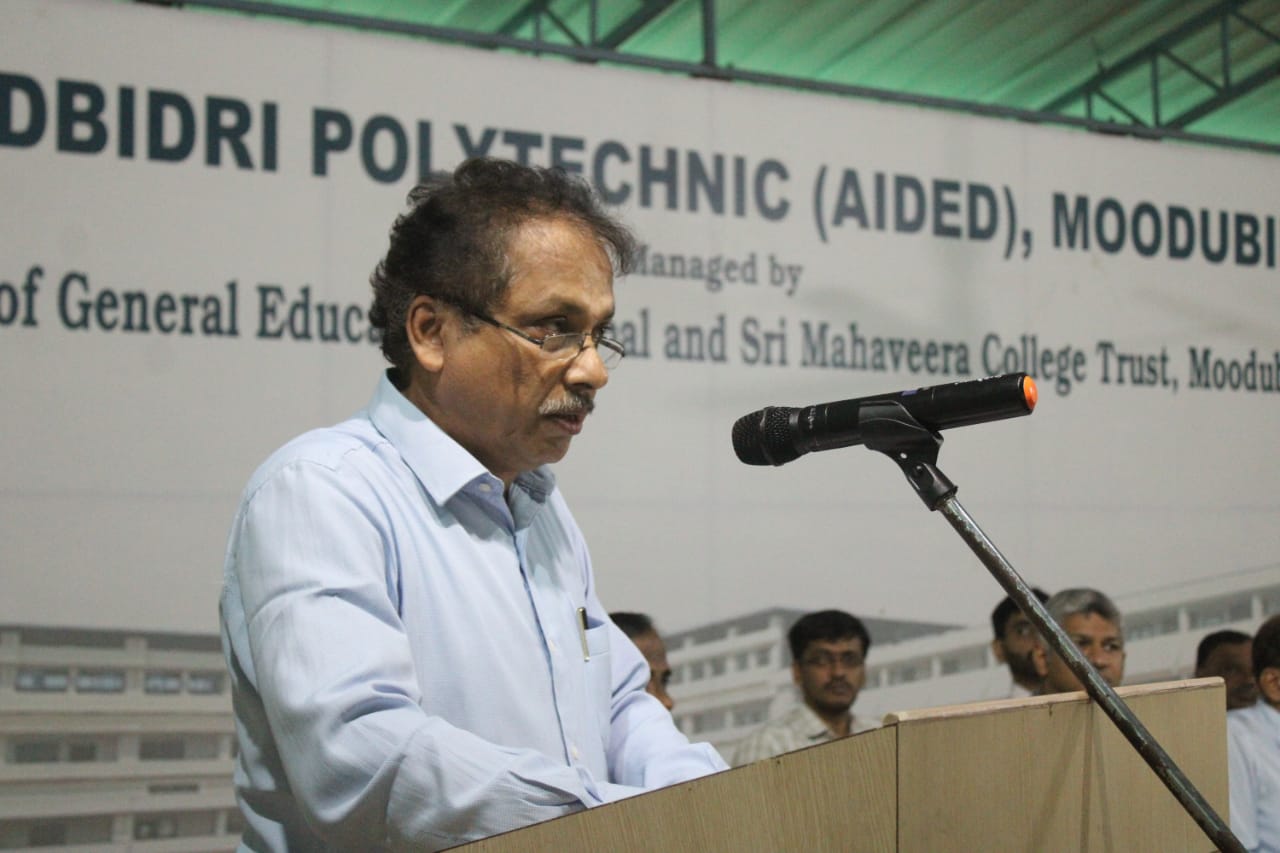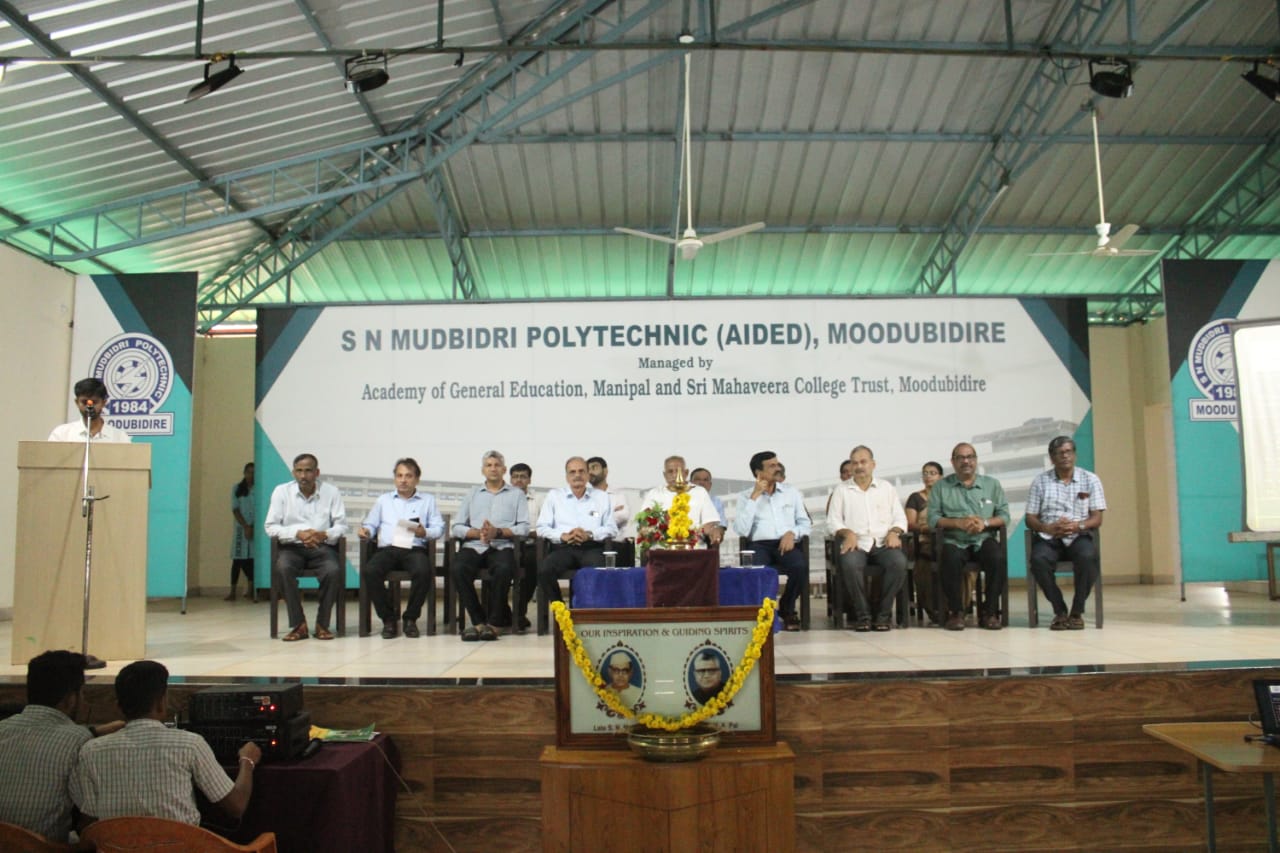 UNIVERSAL HUMAN VALUES ( UHV )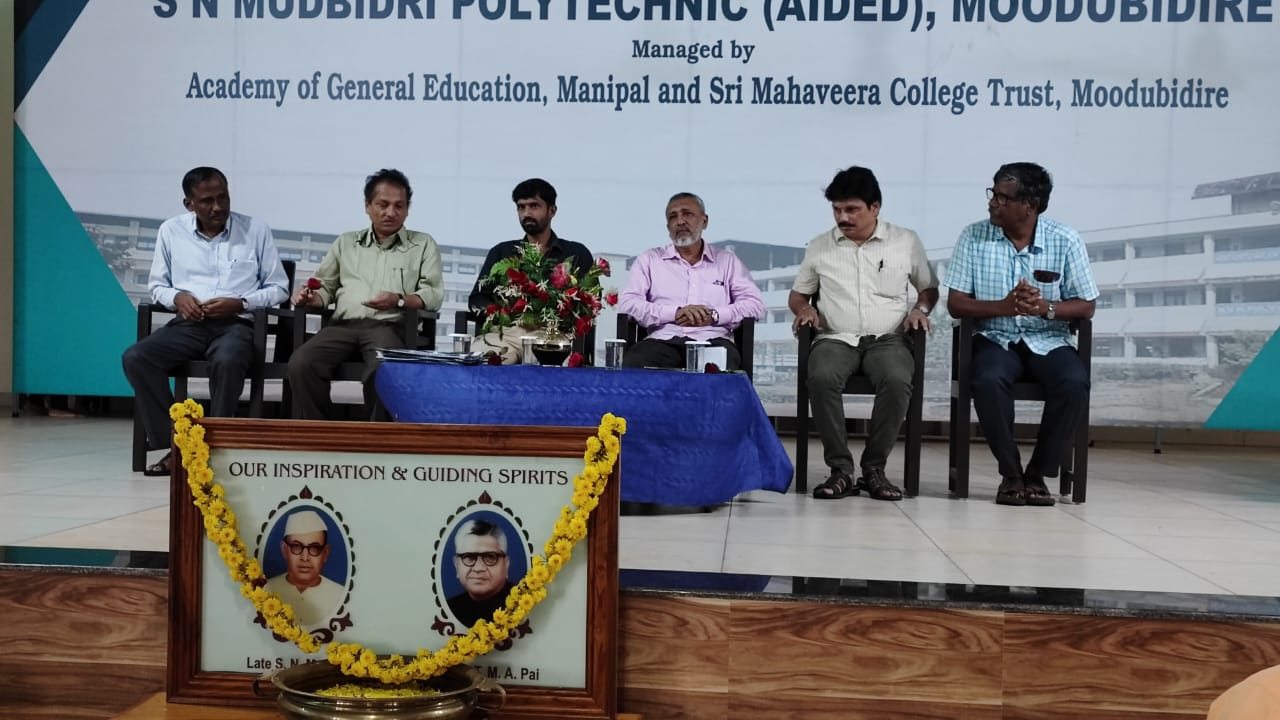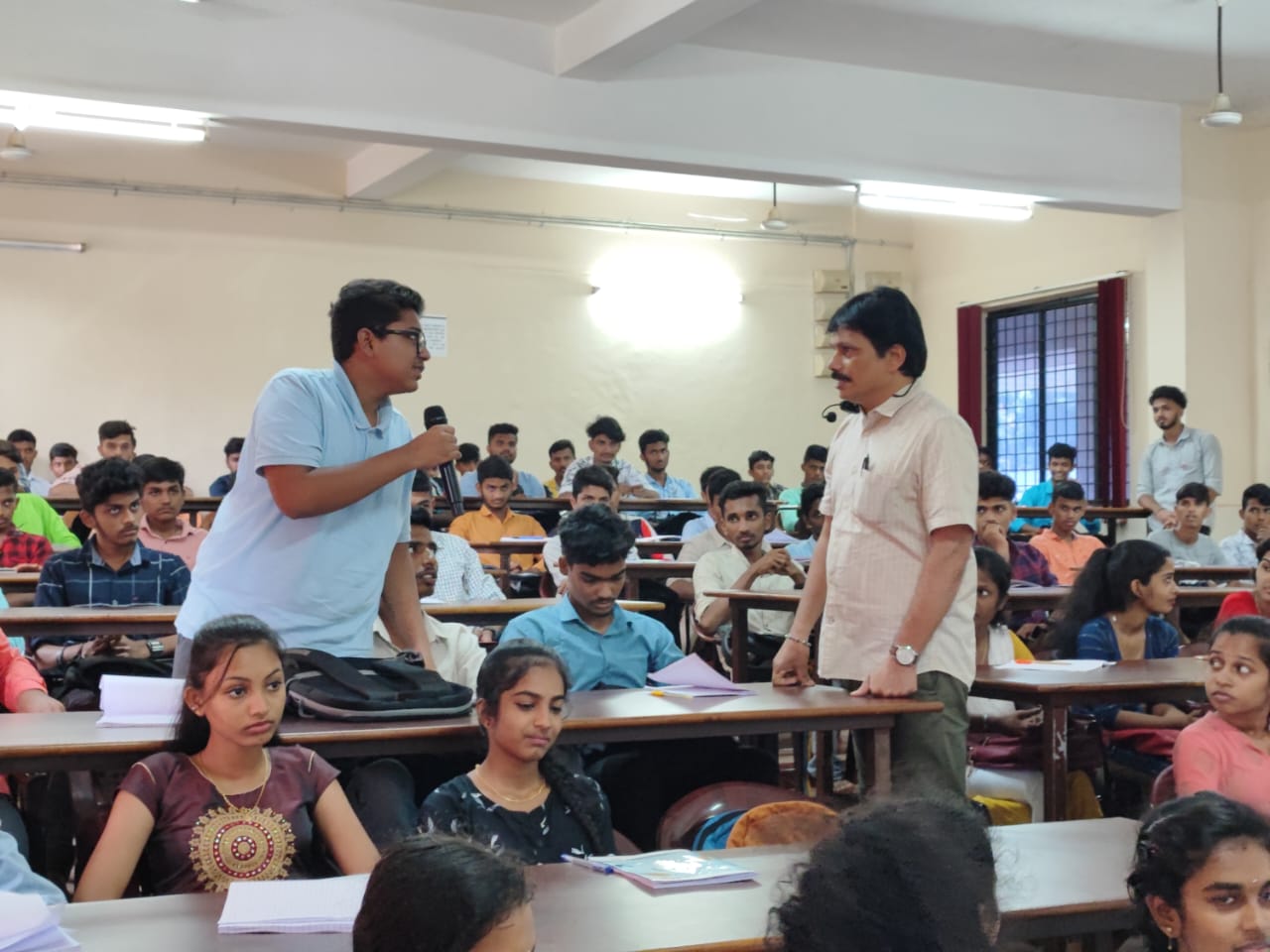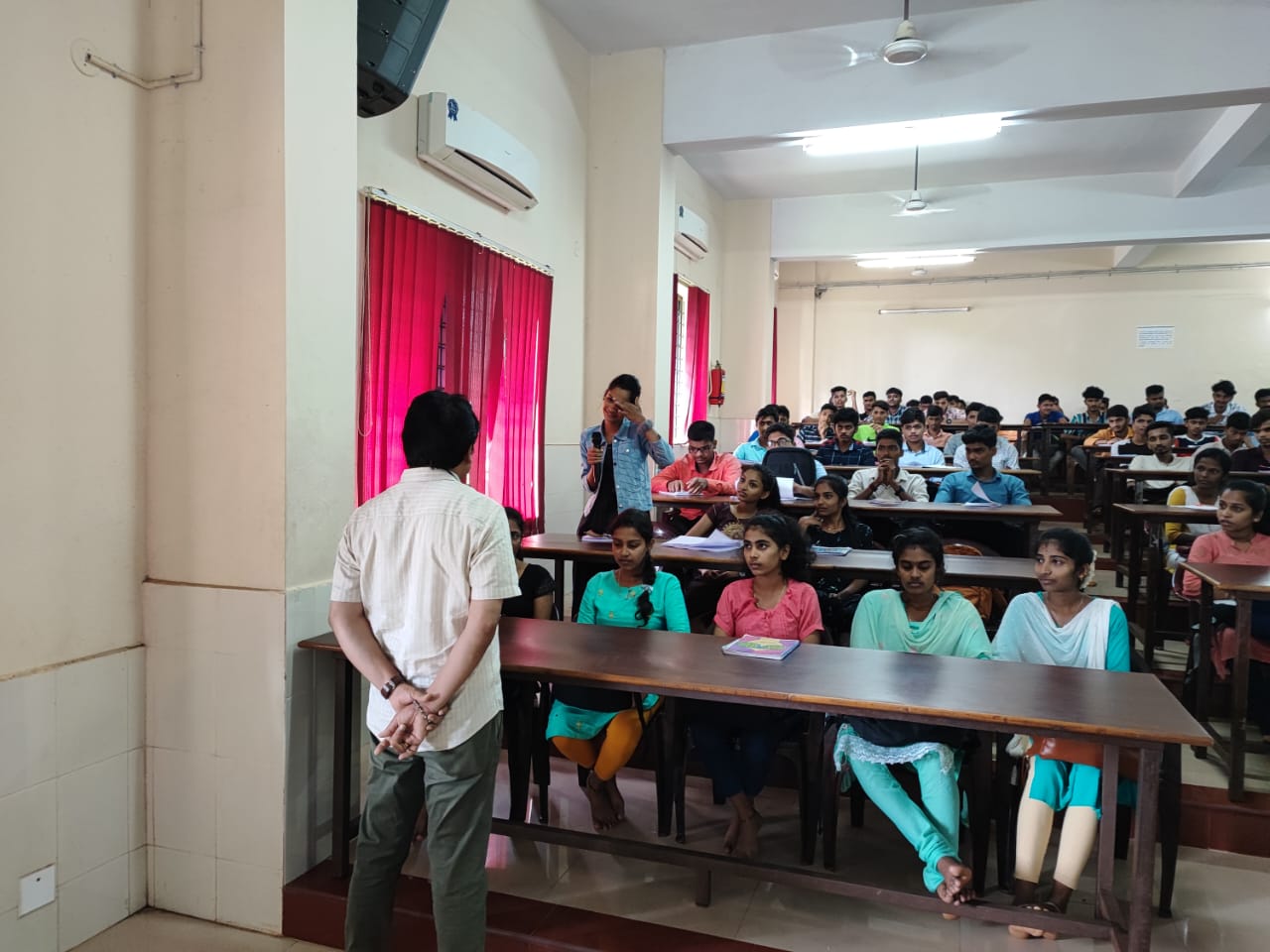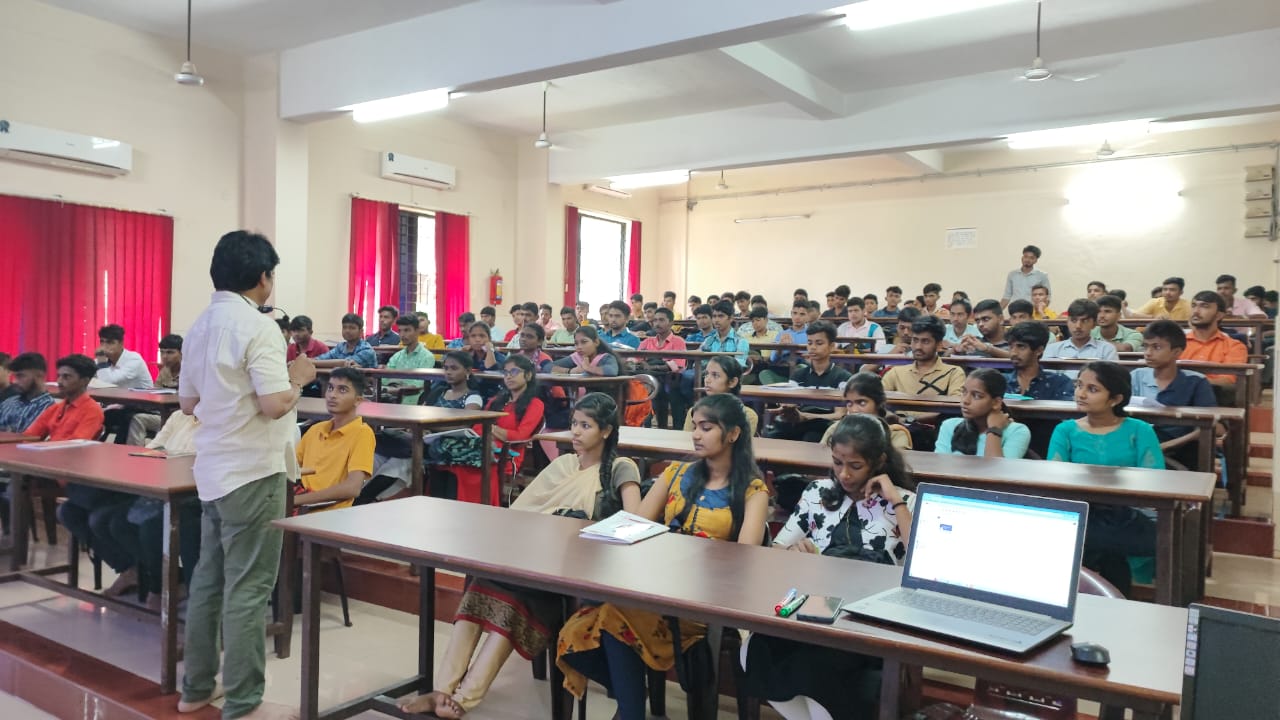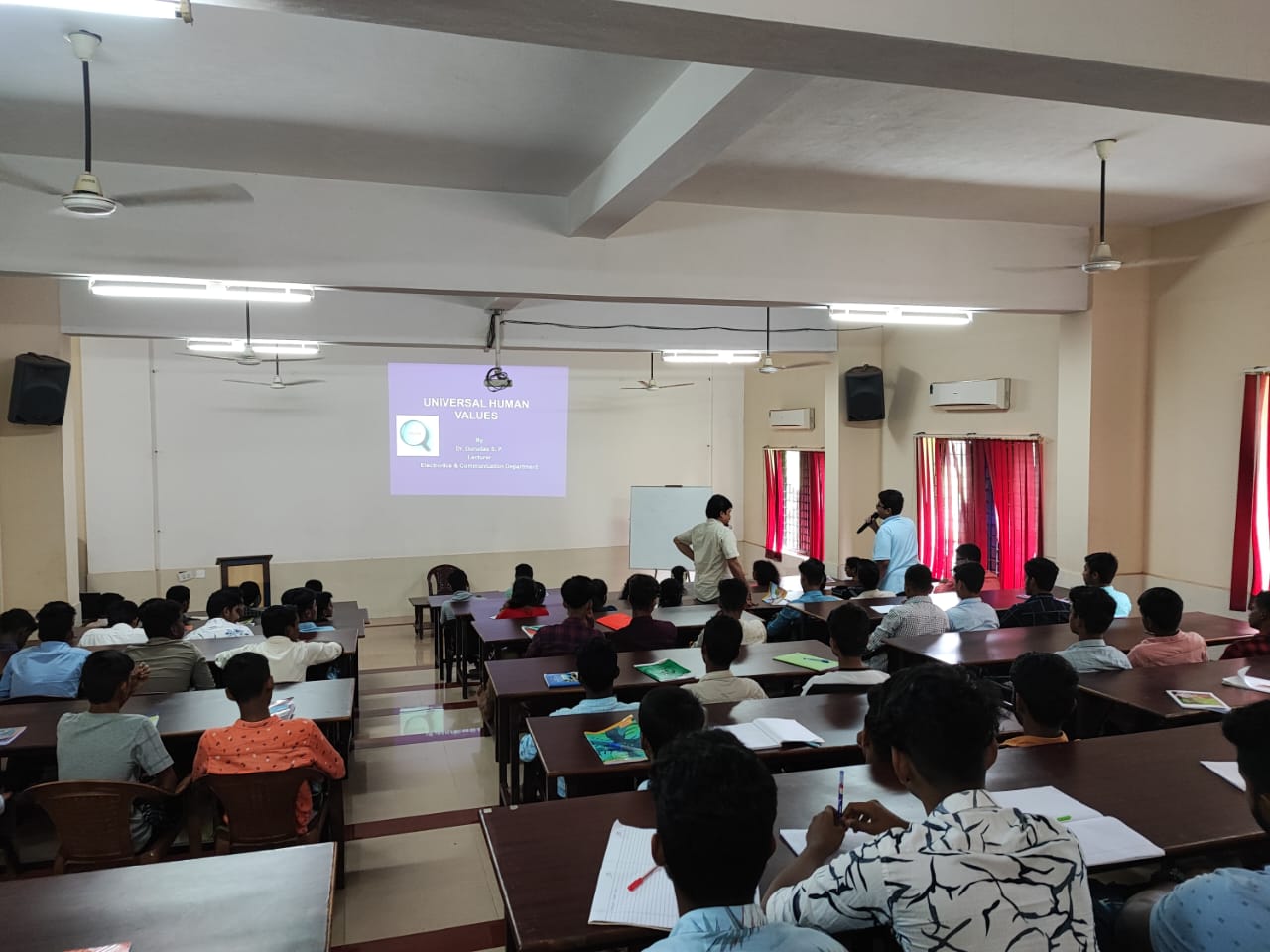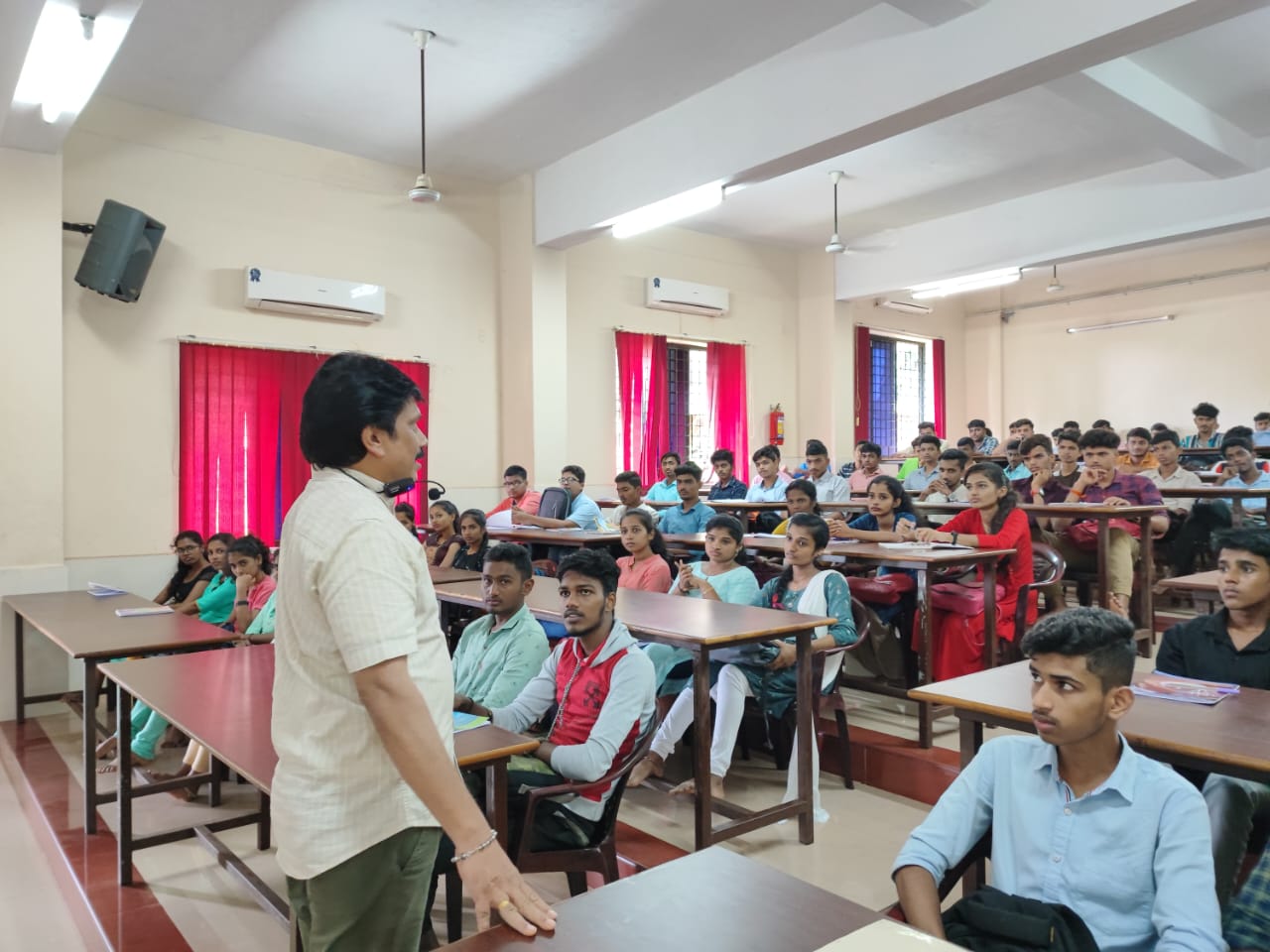 PROFESSIONAL ETHICS AND EXPECTATION FROM INDUSTRIES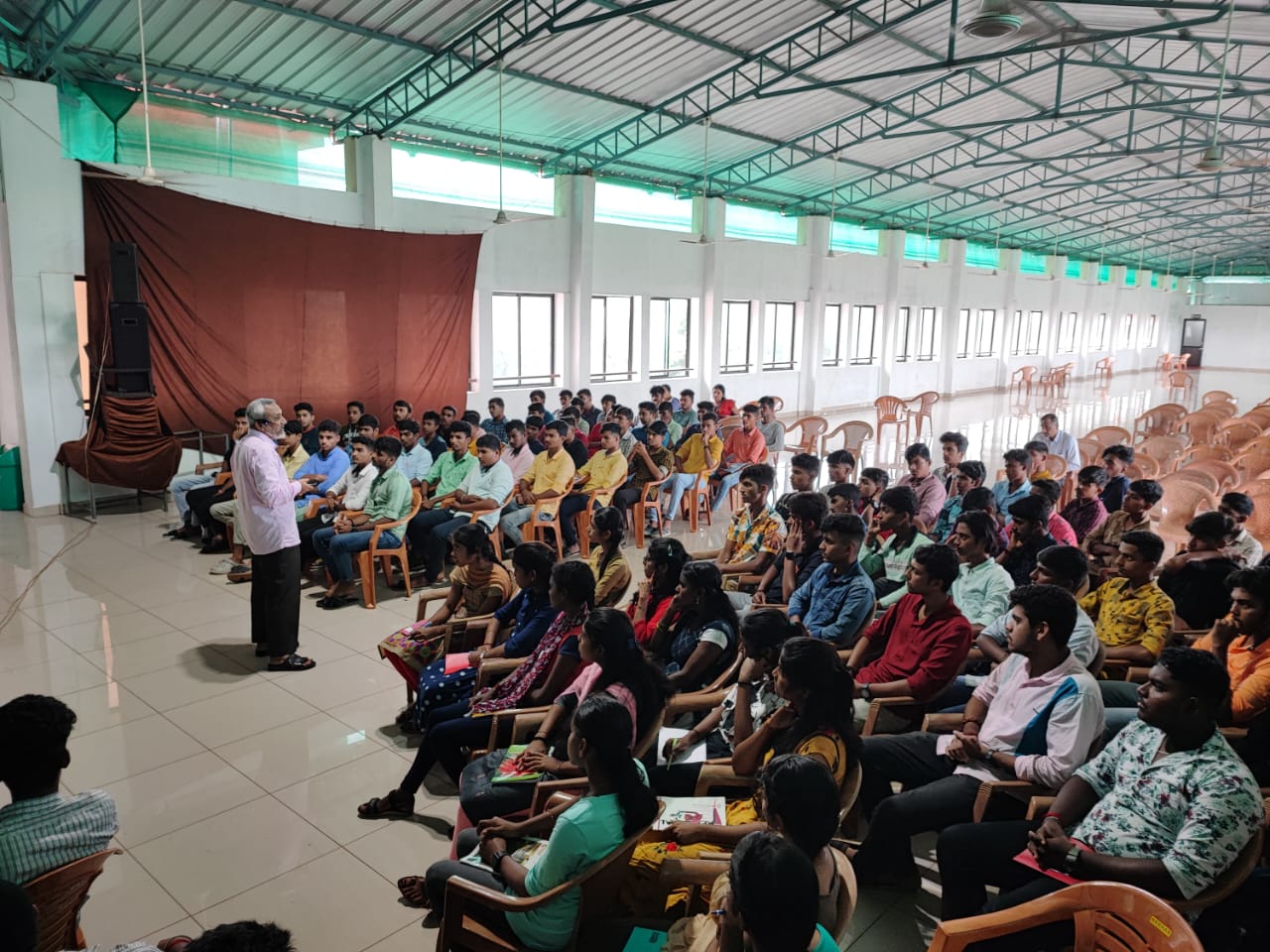 LIFE SKILL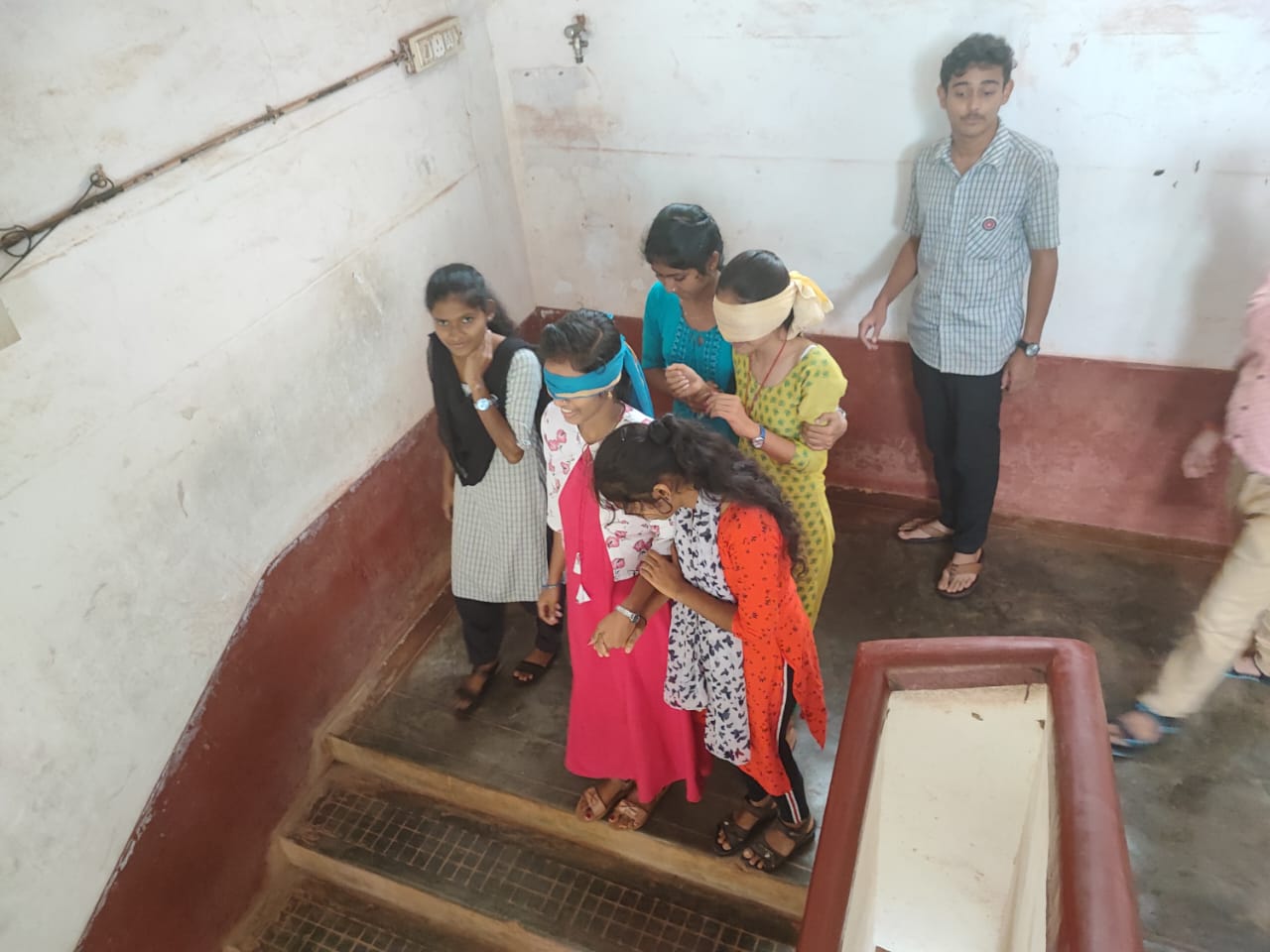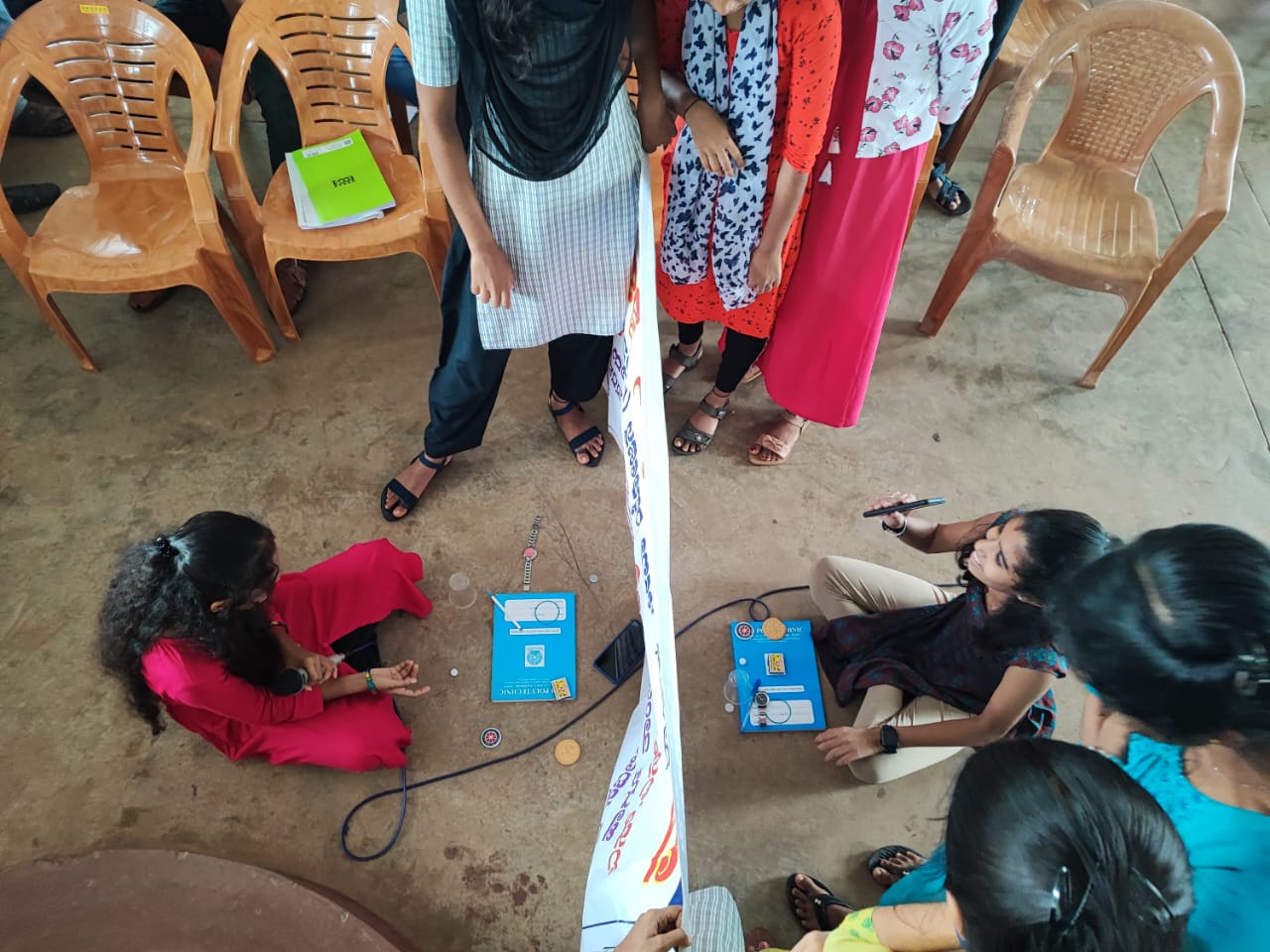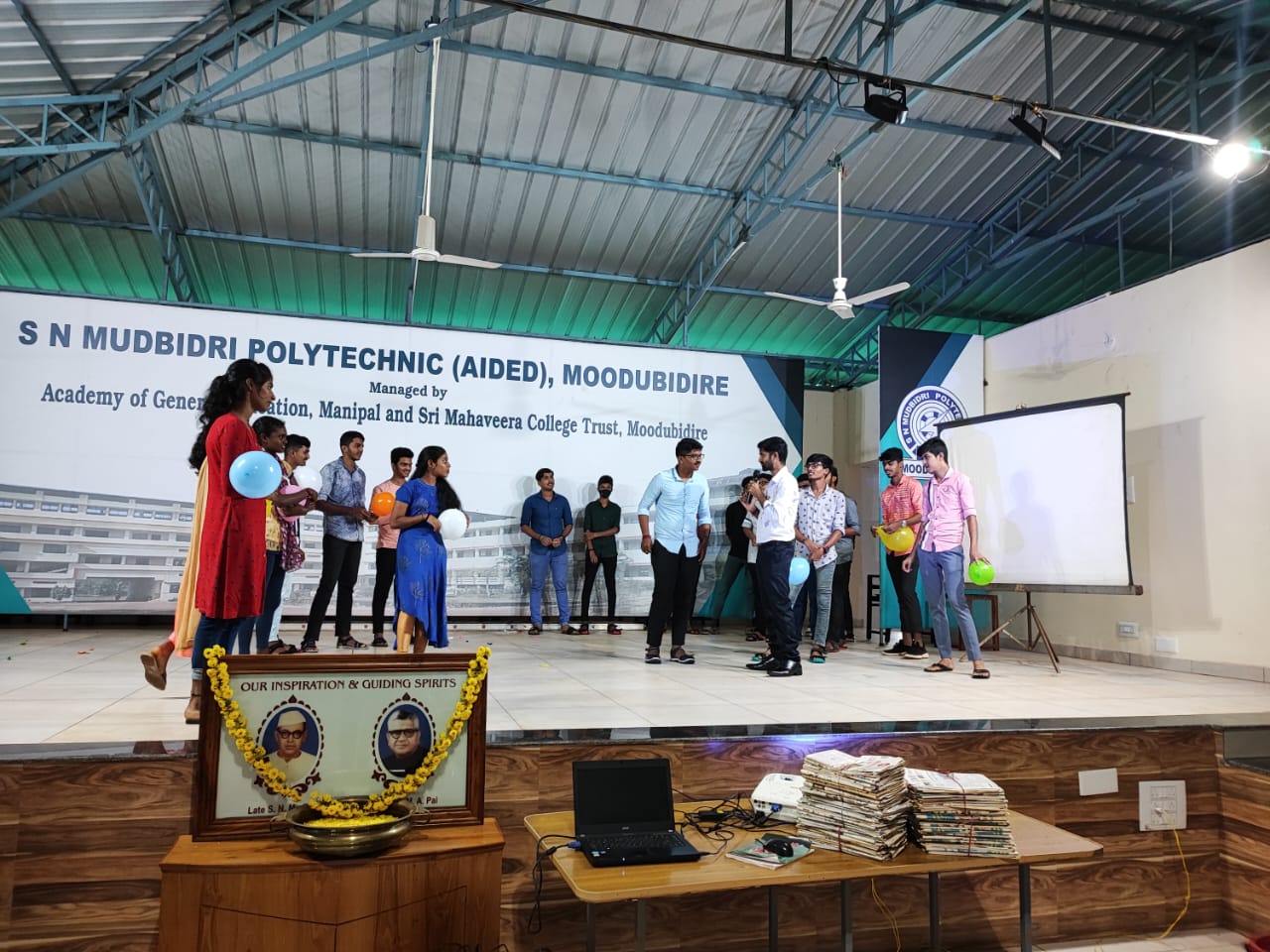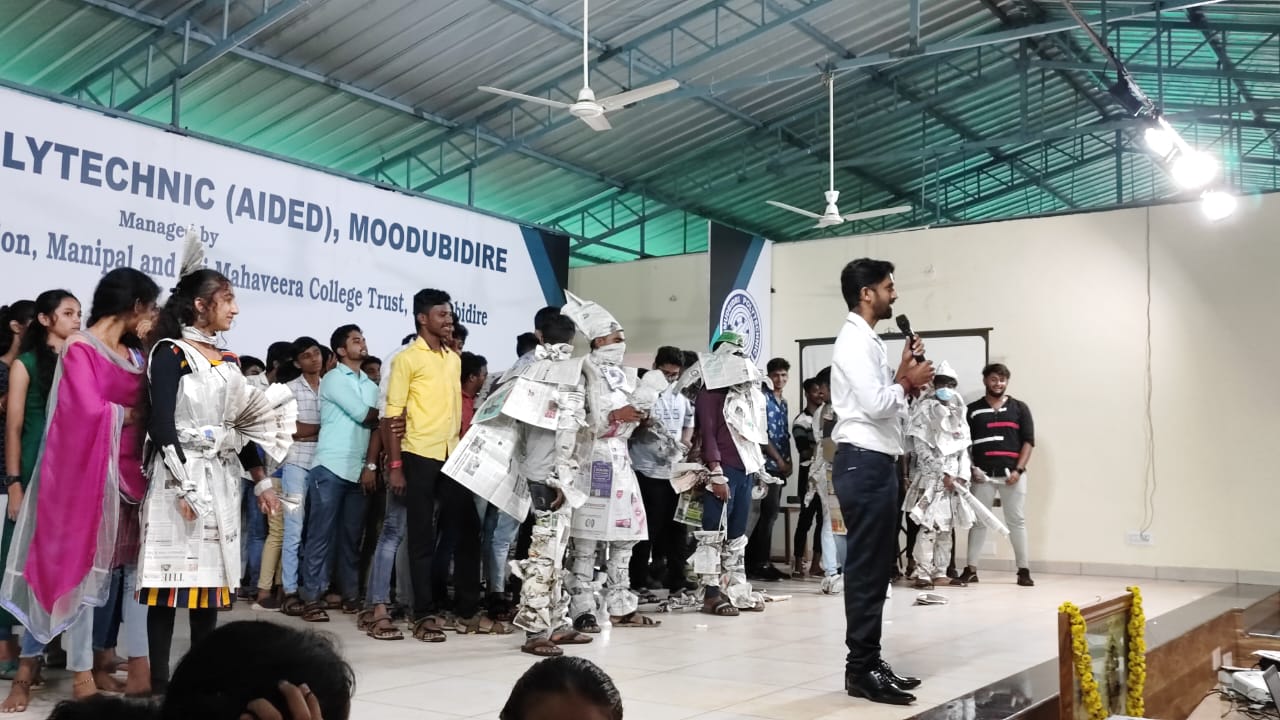 ENVIRONMENT CONCERNS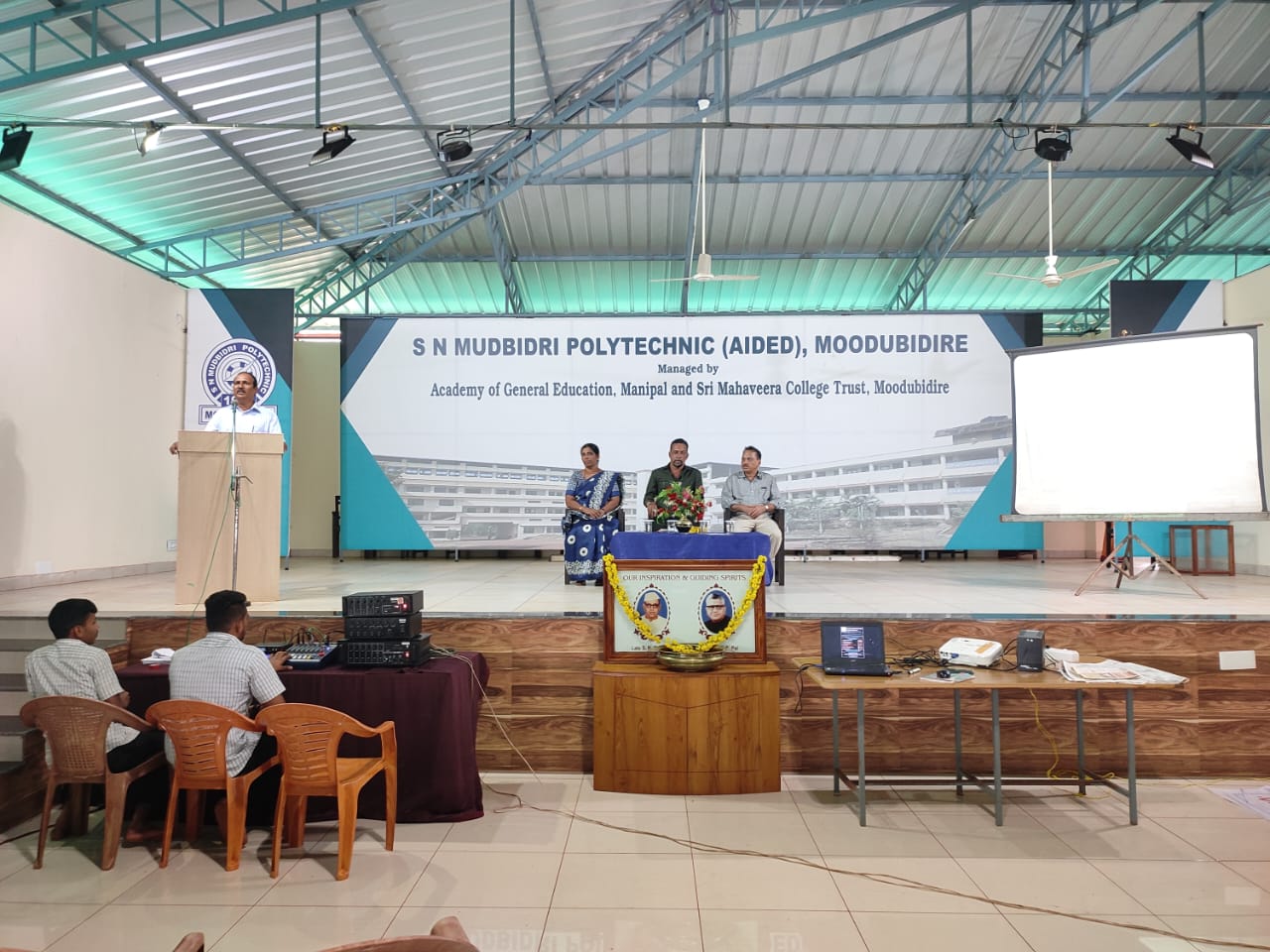 PLACEMENT ACTIVITIES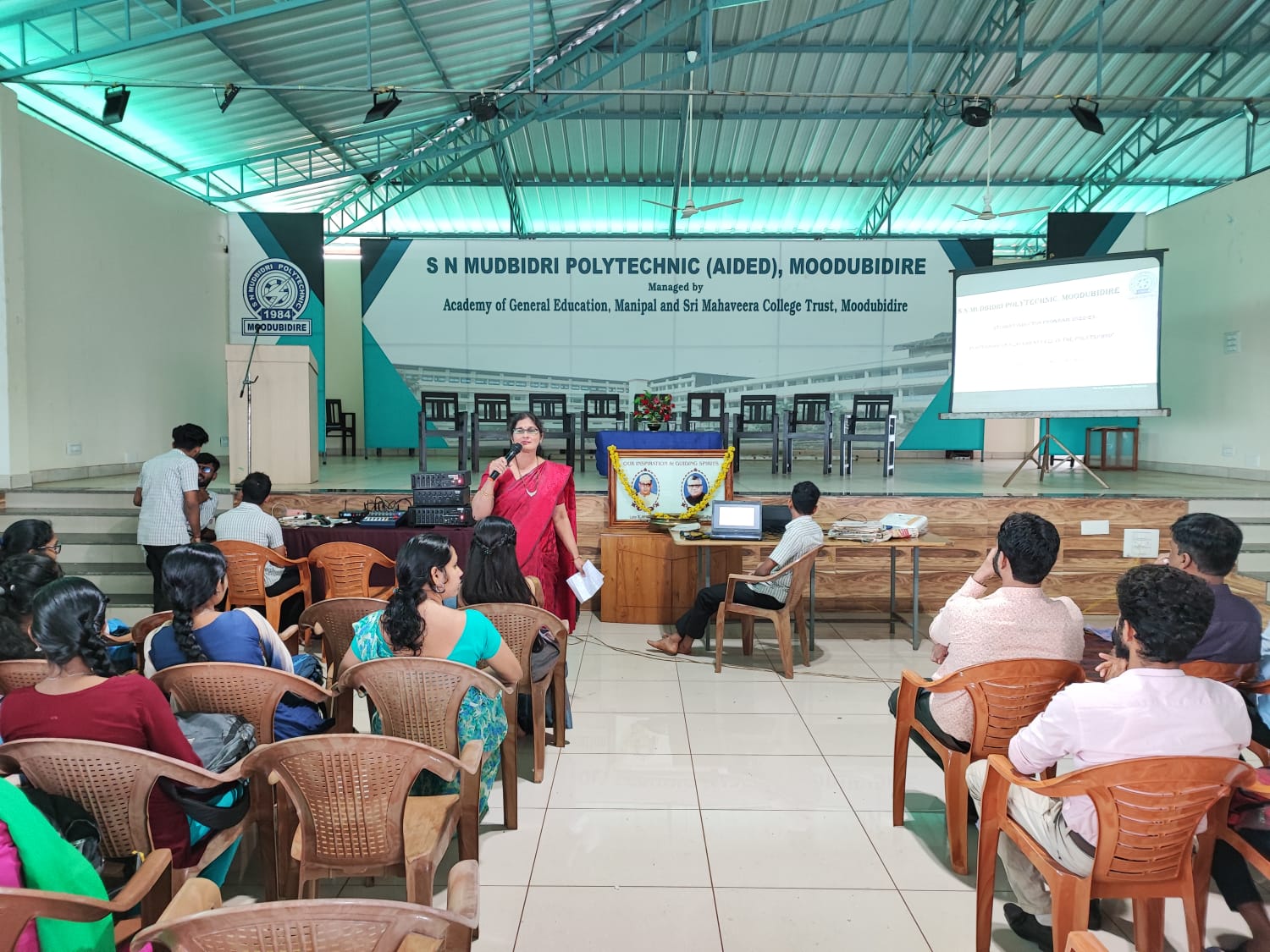 SCHOLARSHIPS & GOVT FACILITIES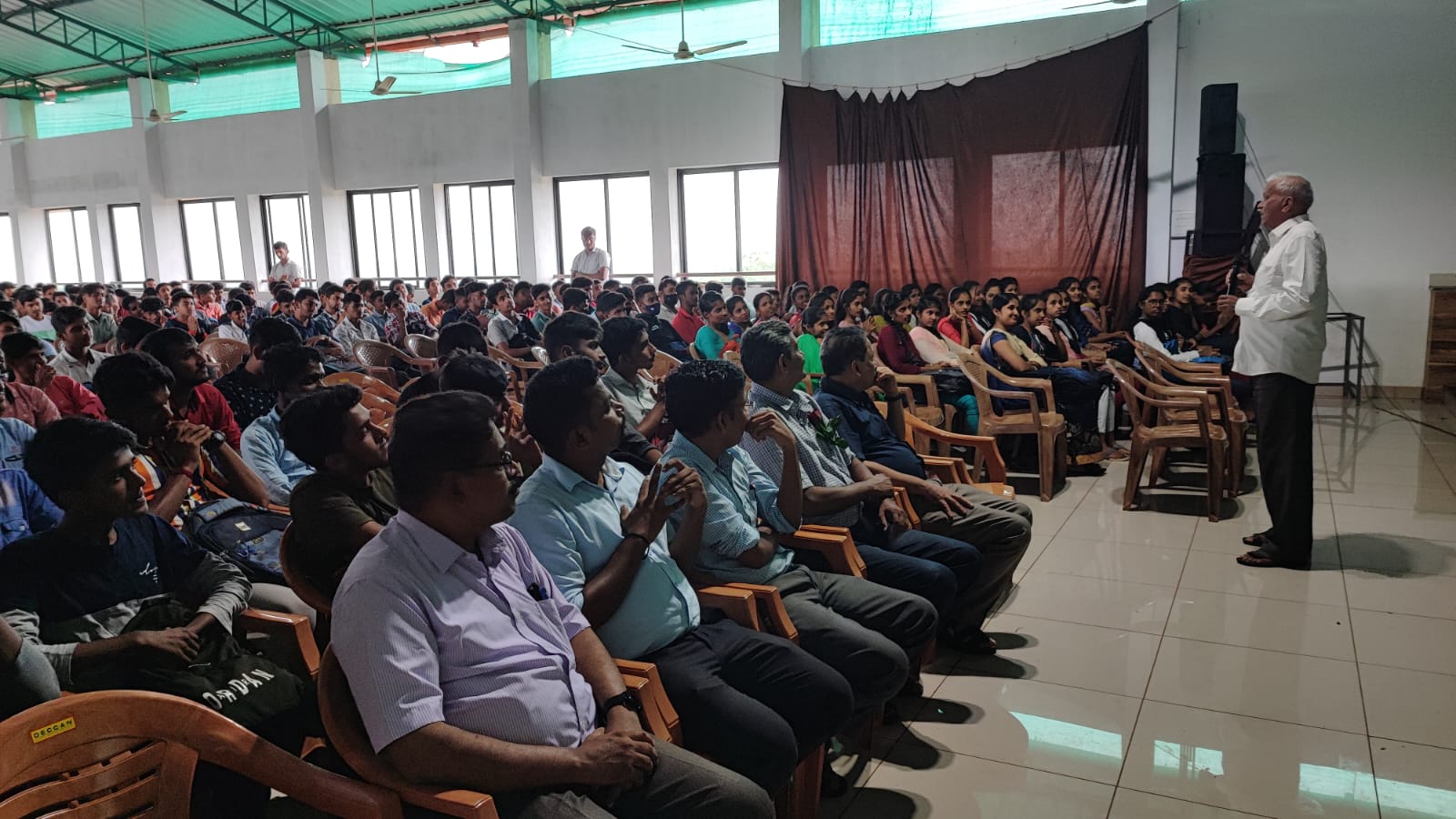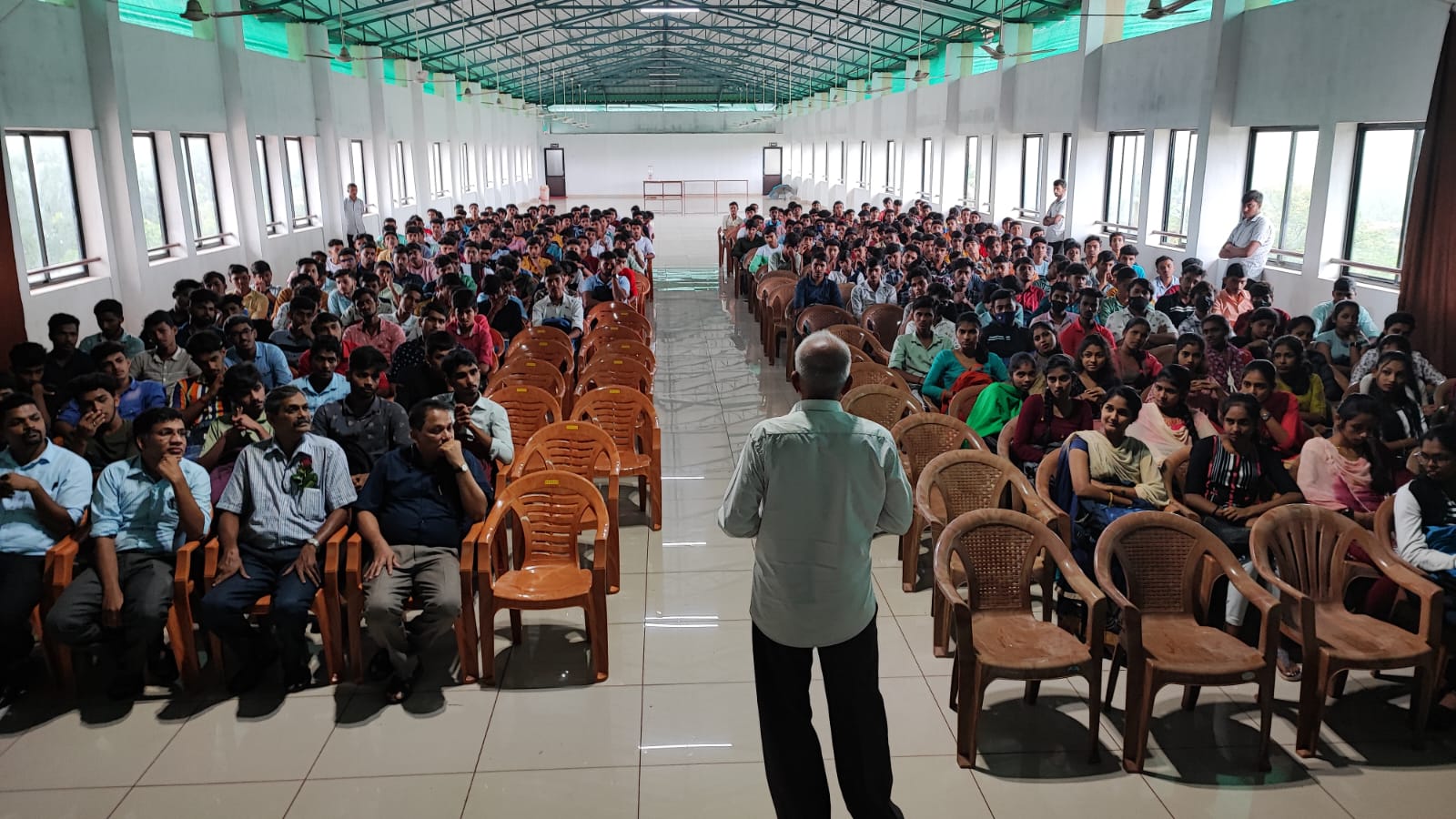 EXPERIENCE SHARING BY OLD STUDENT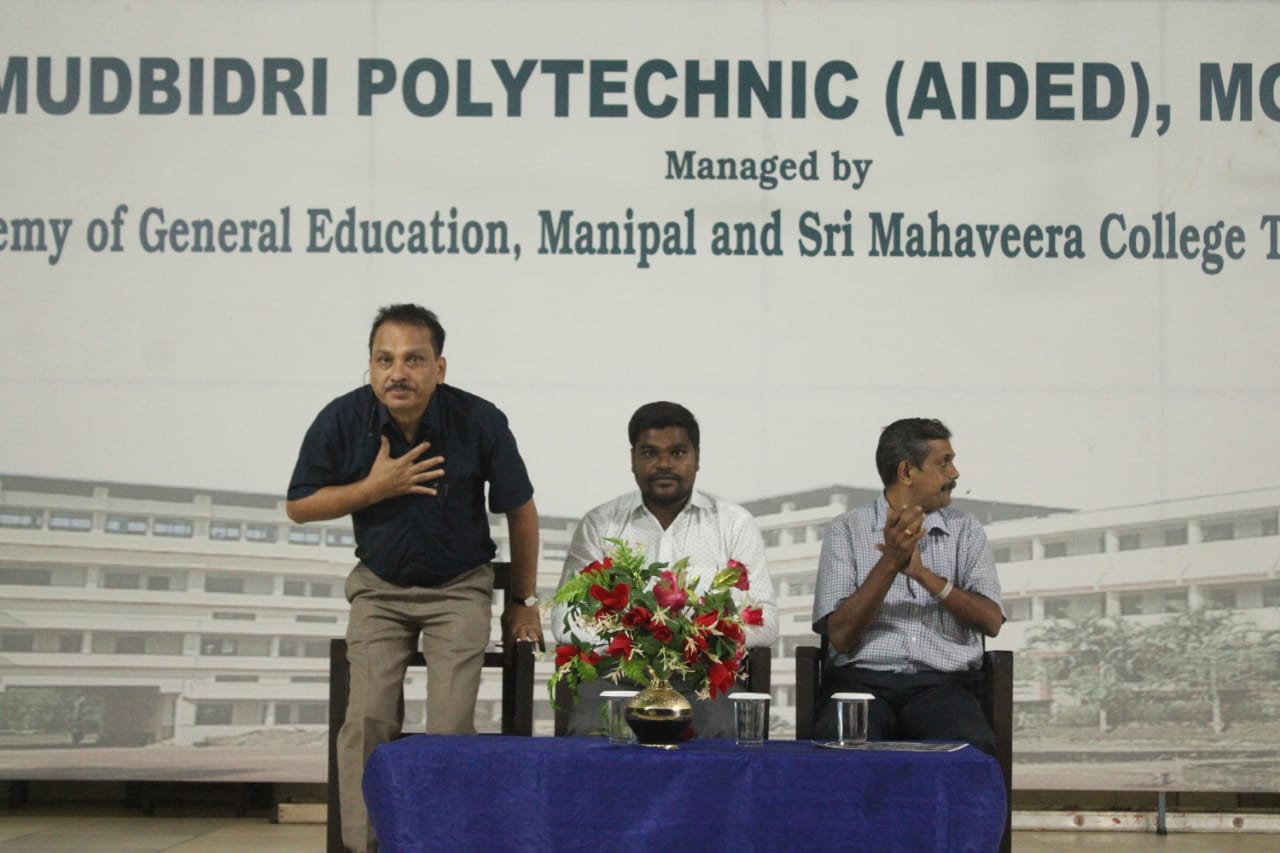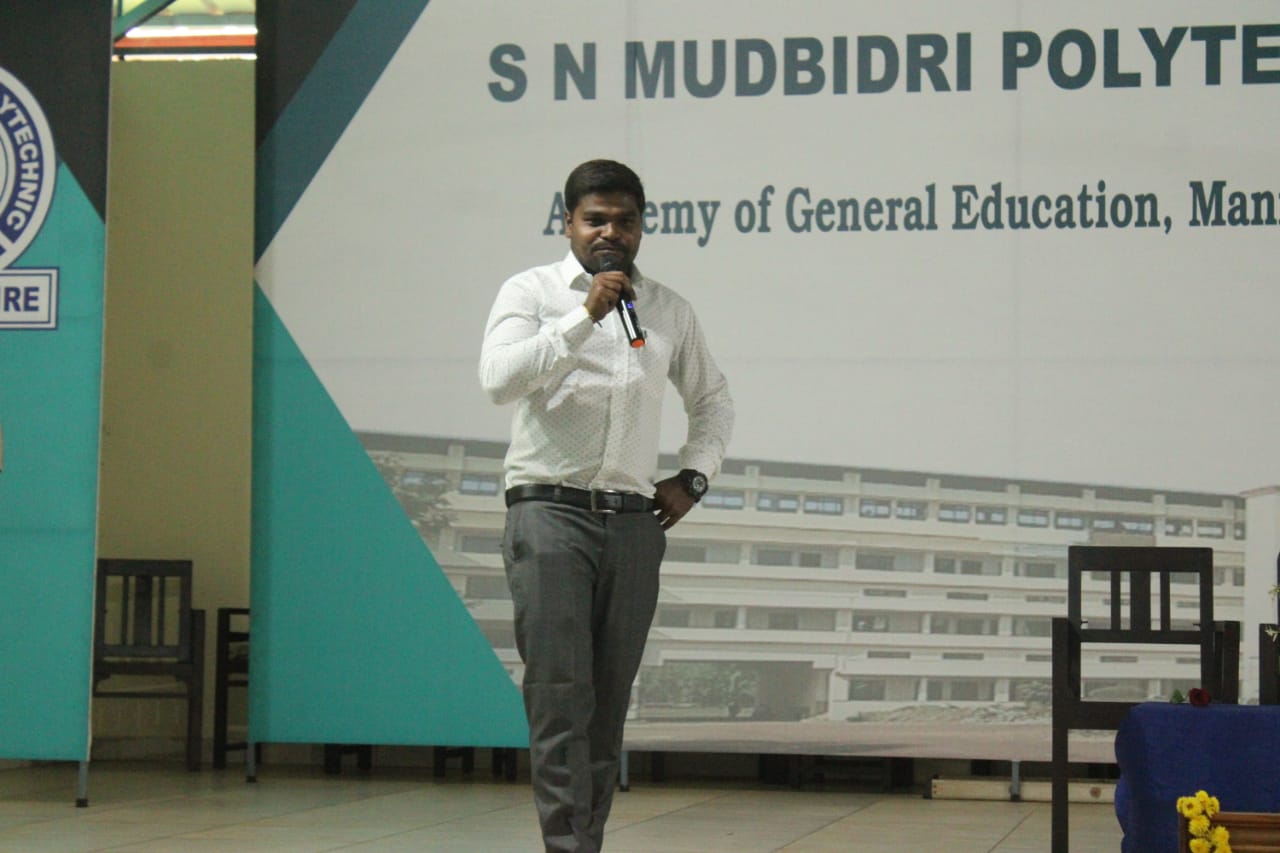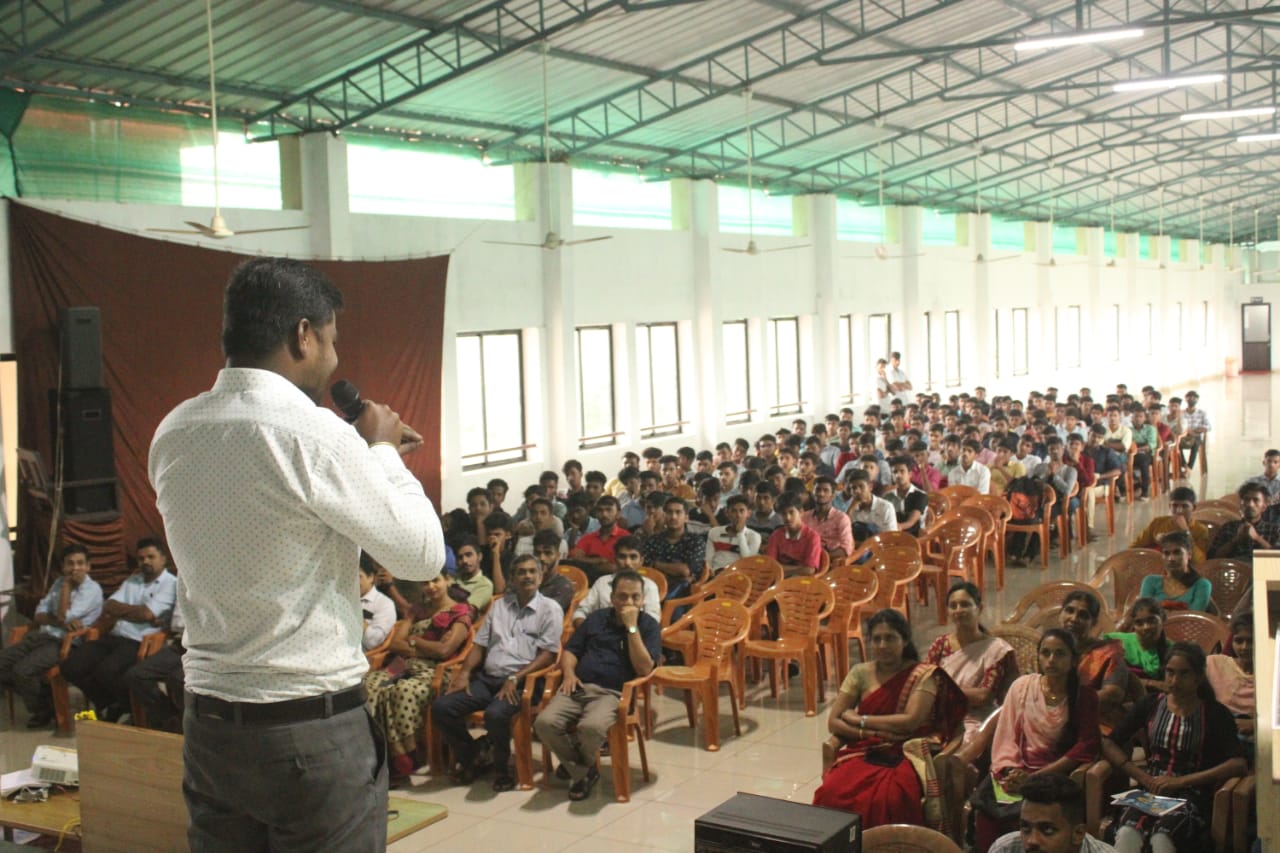 COLLEGE ACTIVITIES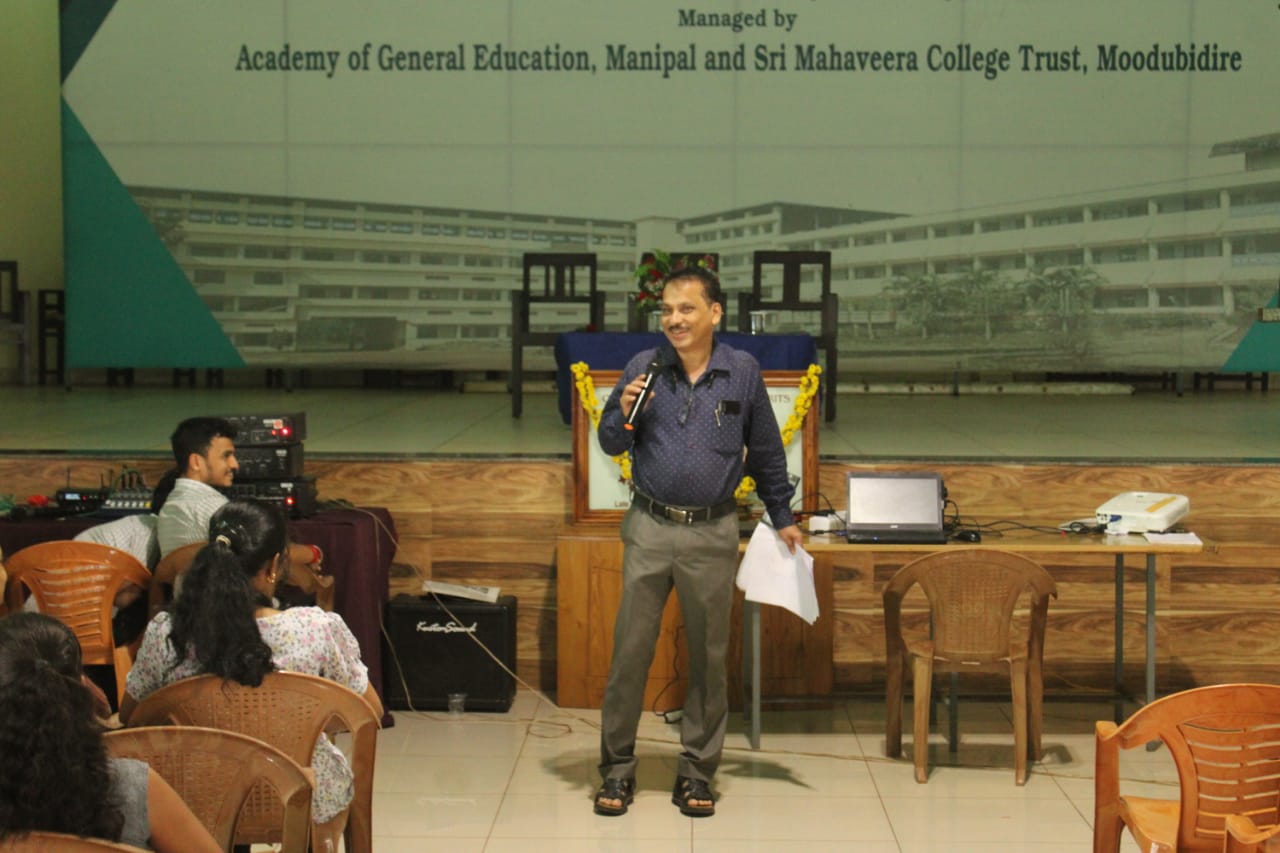 CIVIC DUTIES & RESPONSIBILITIES
TEAMS TASKS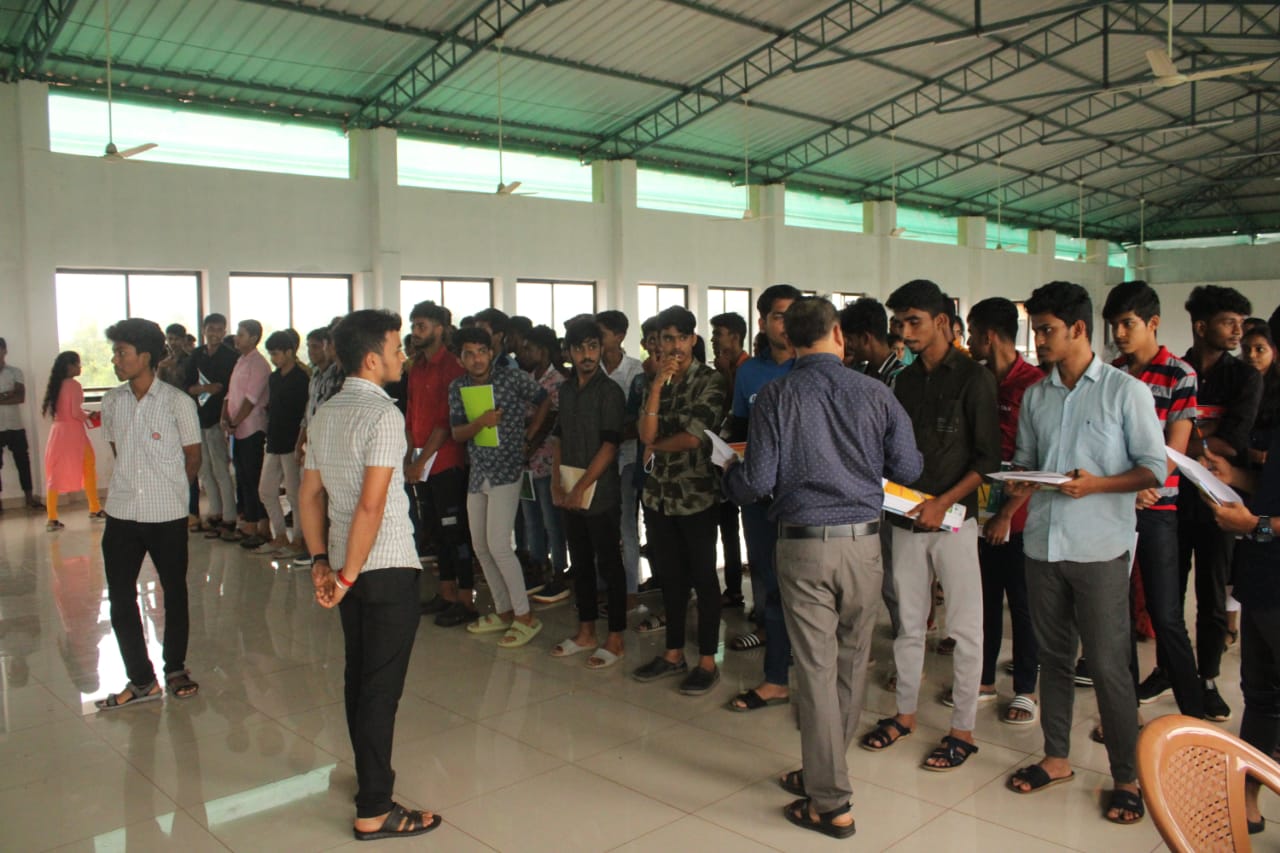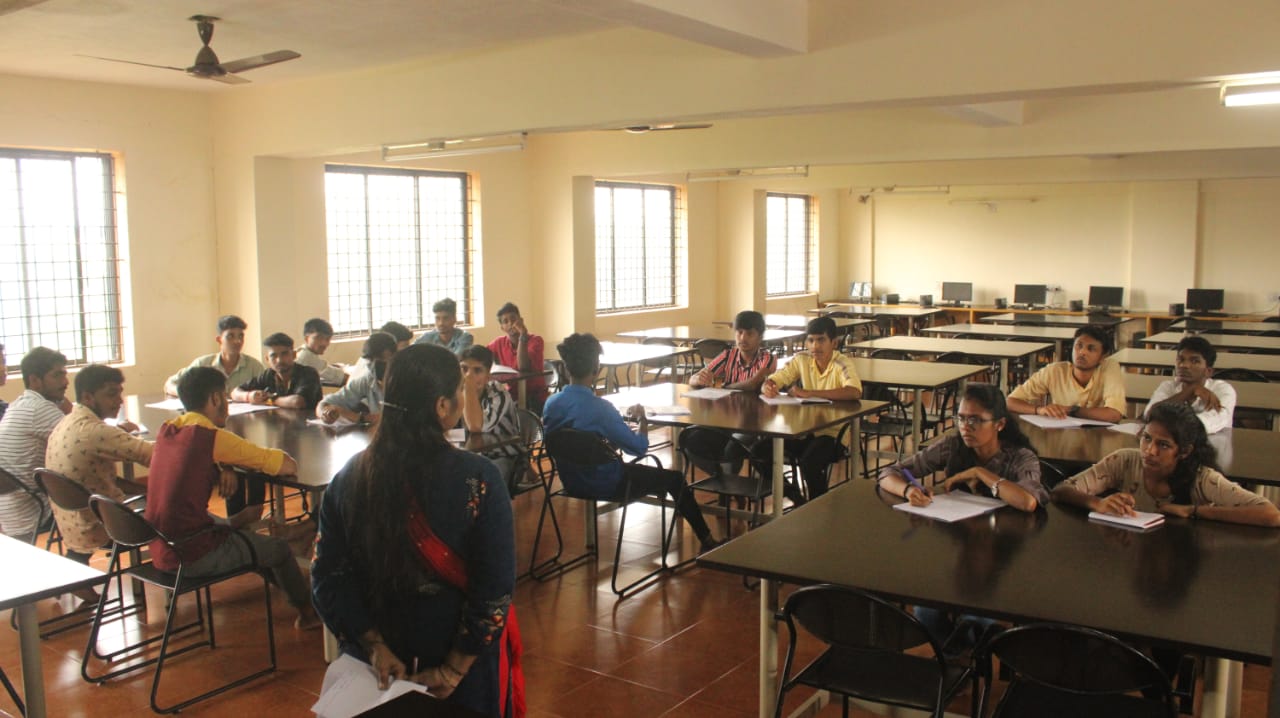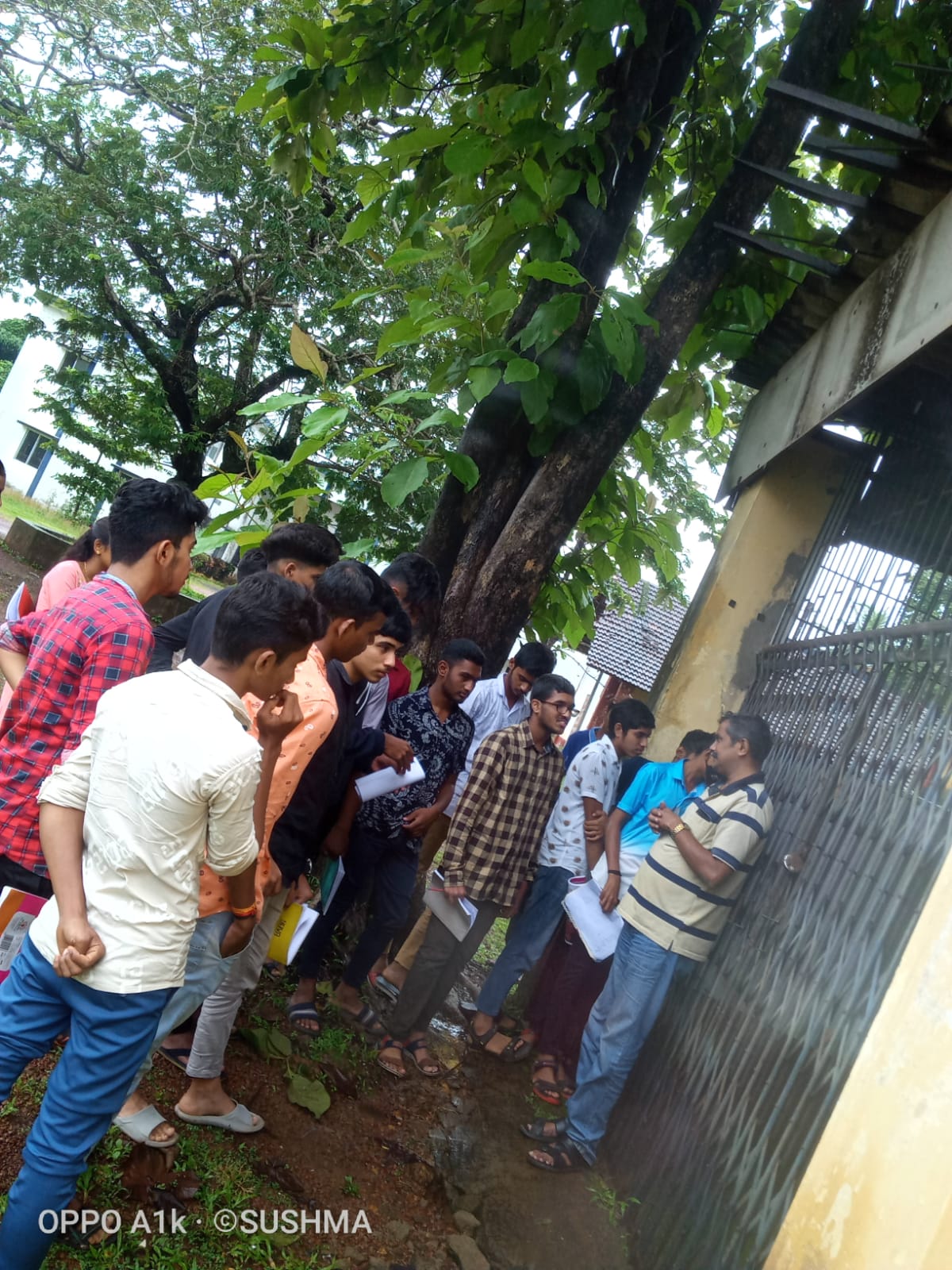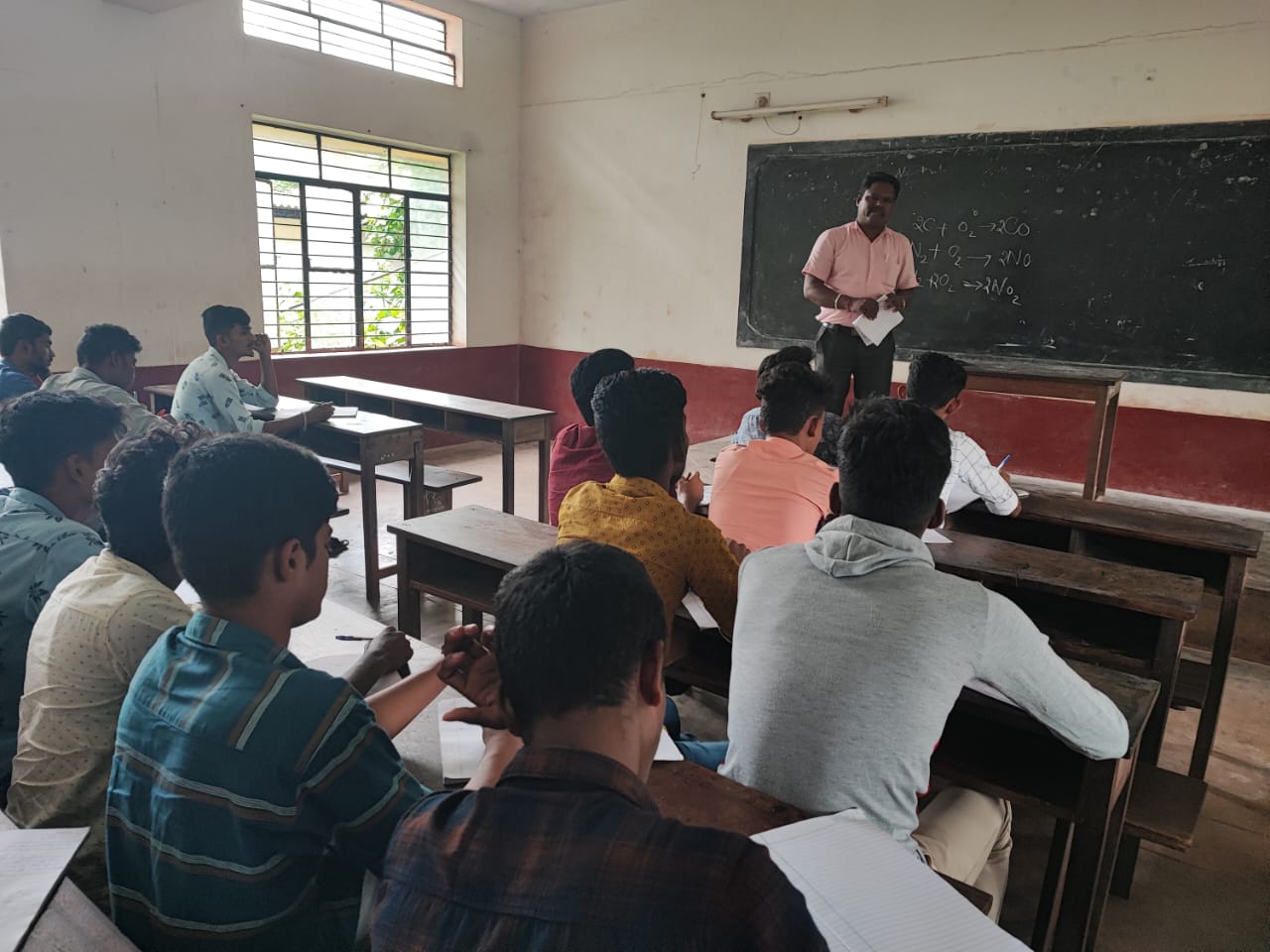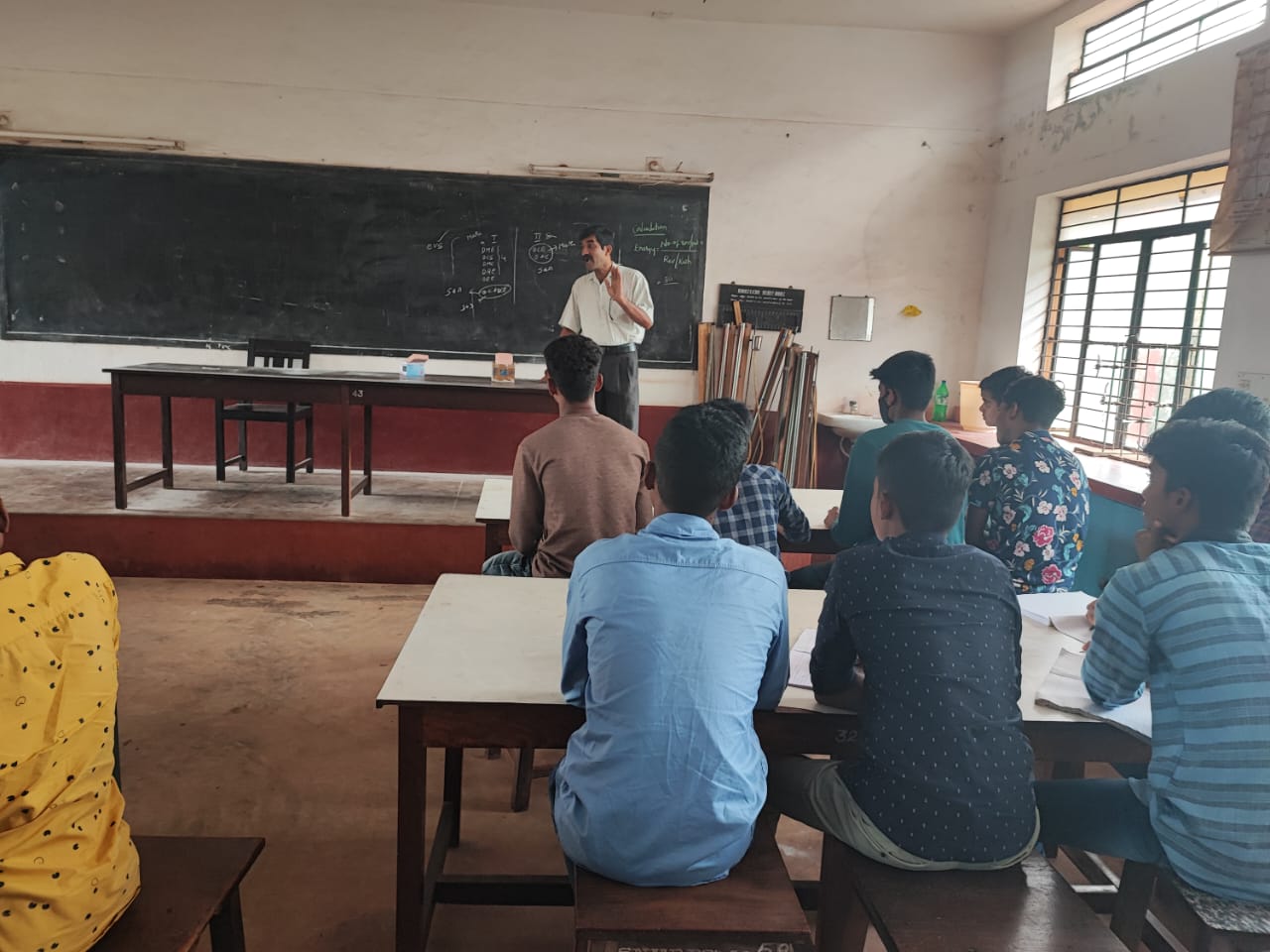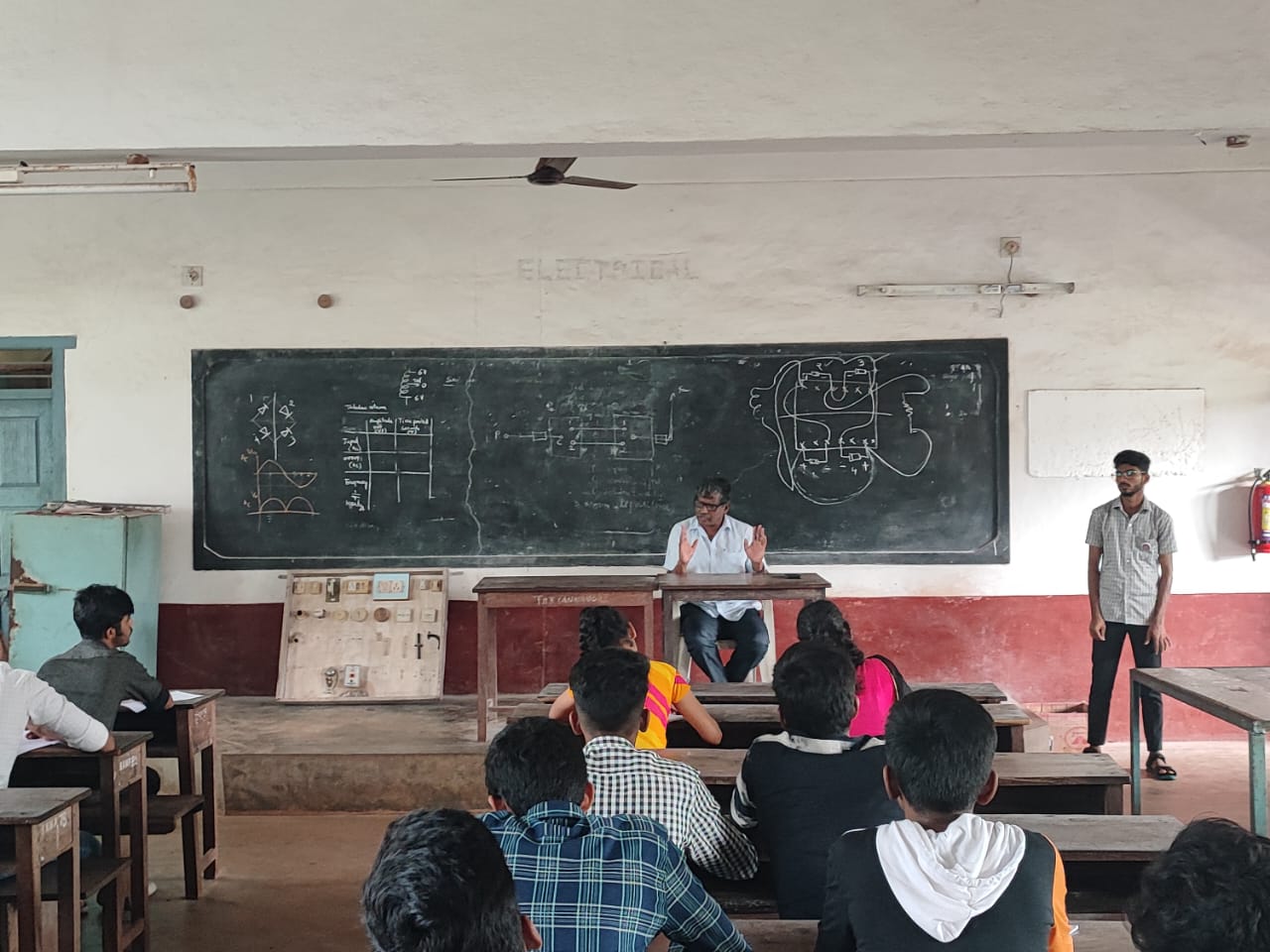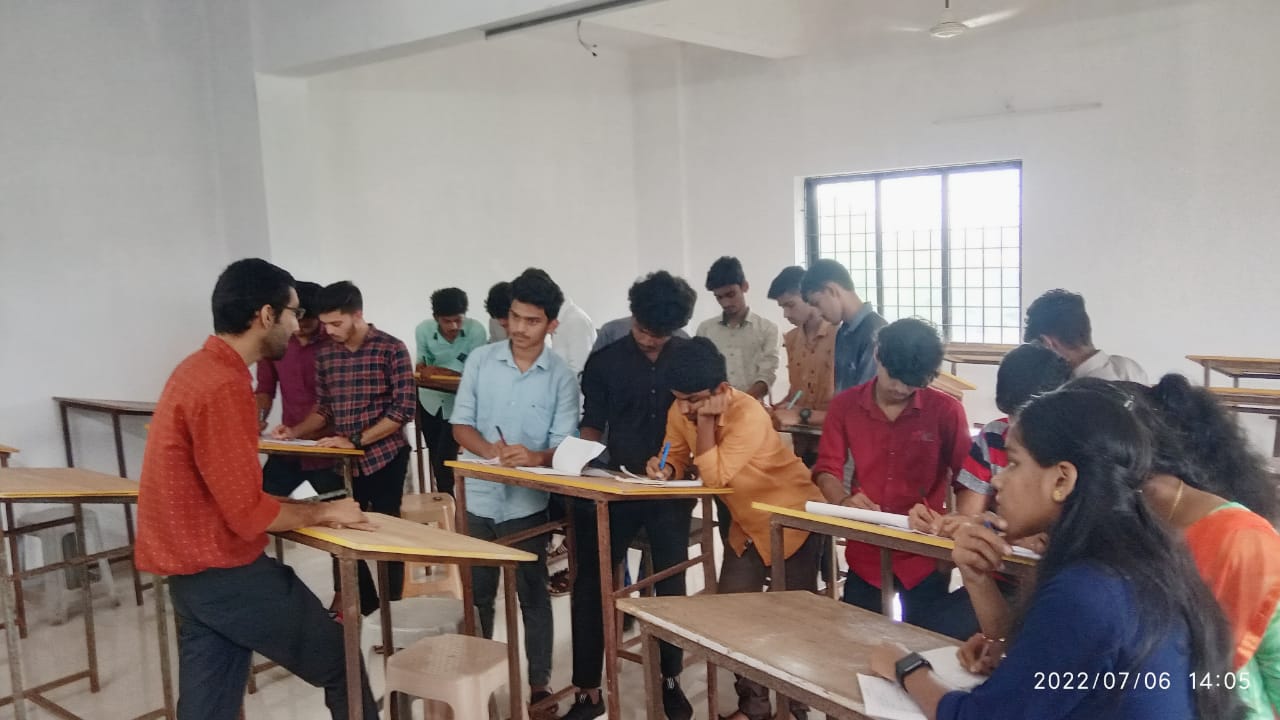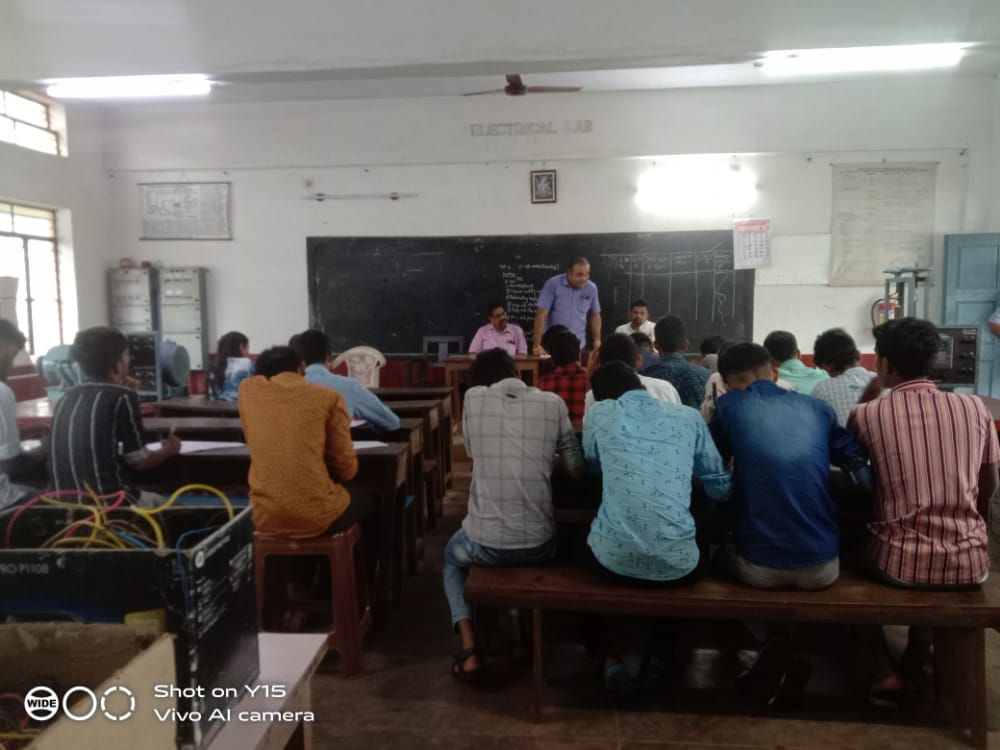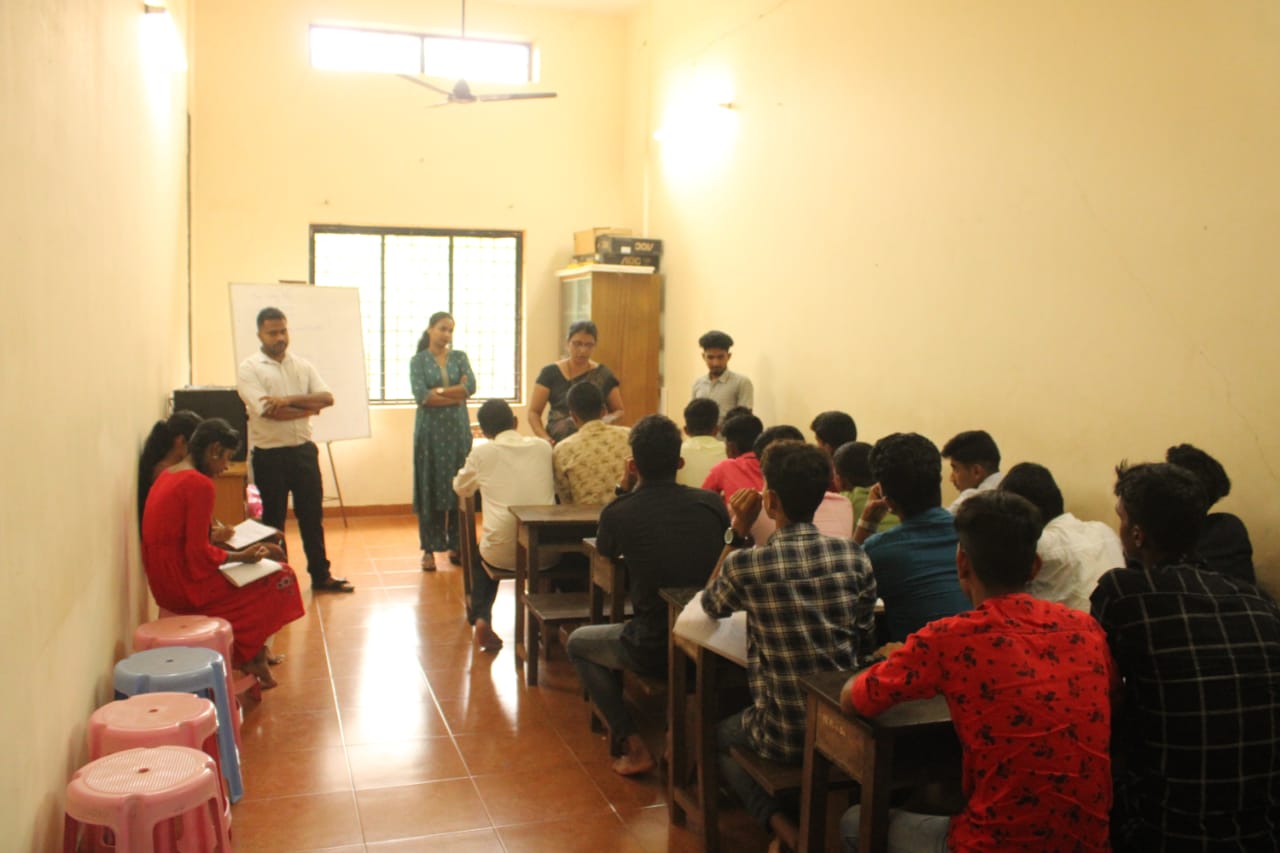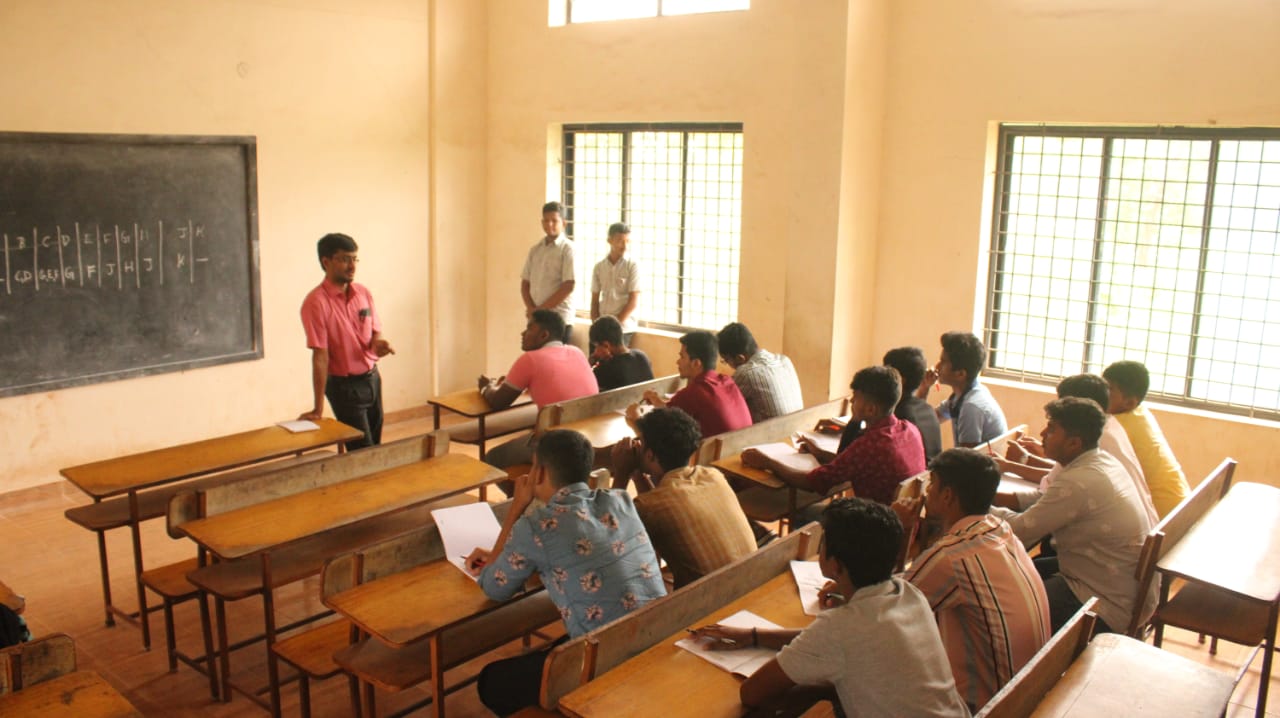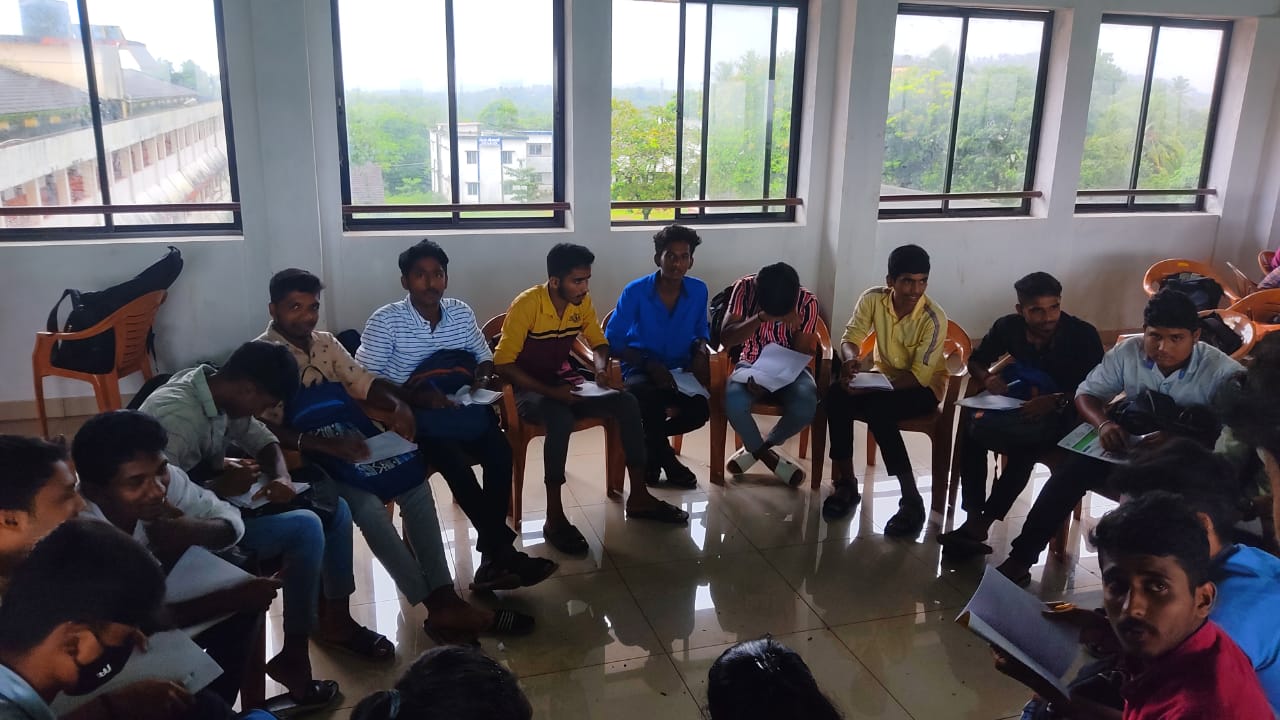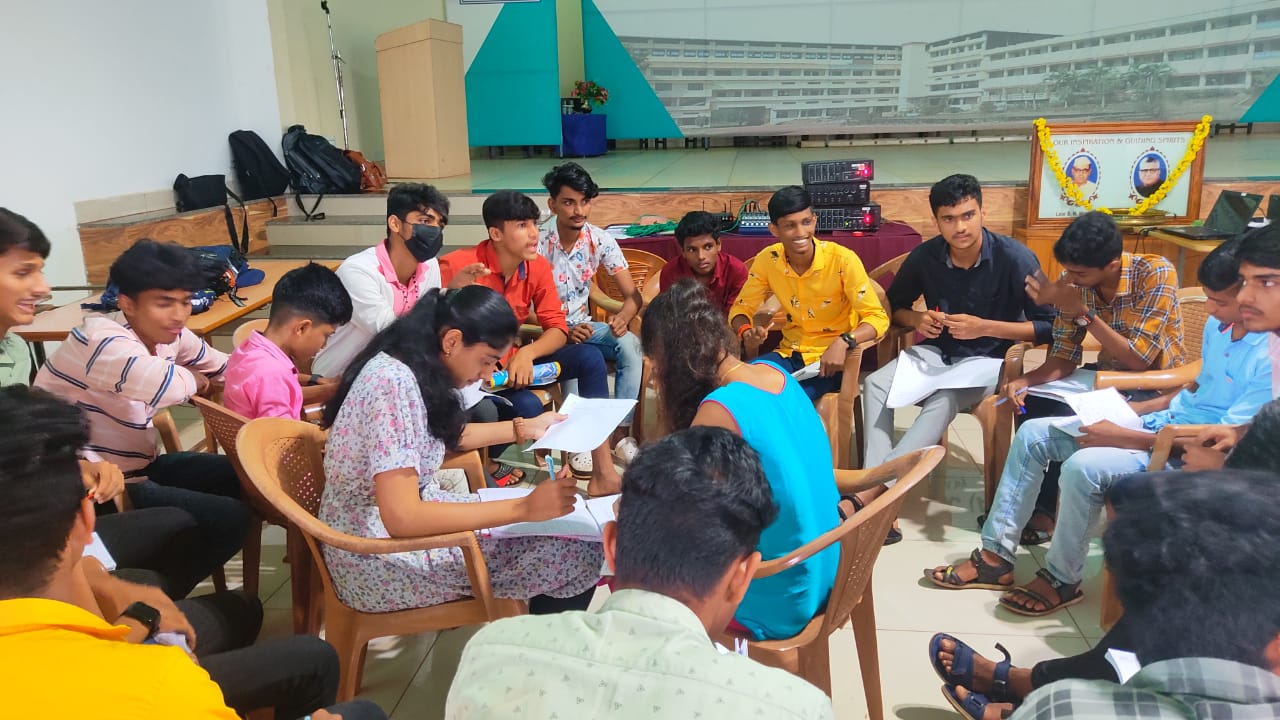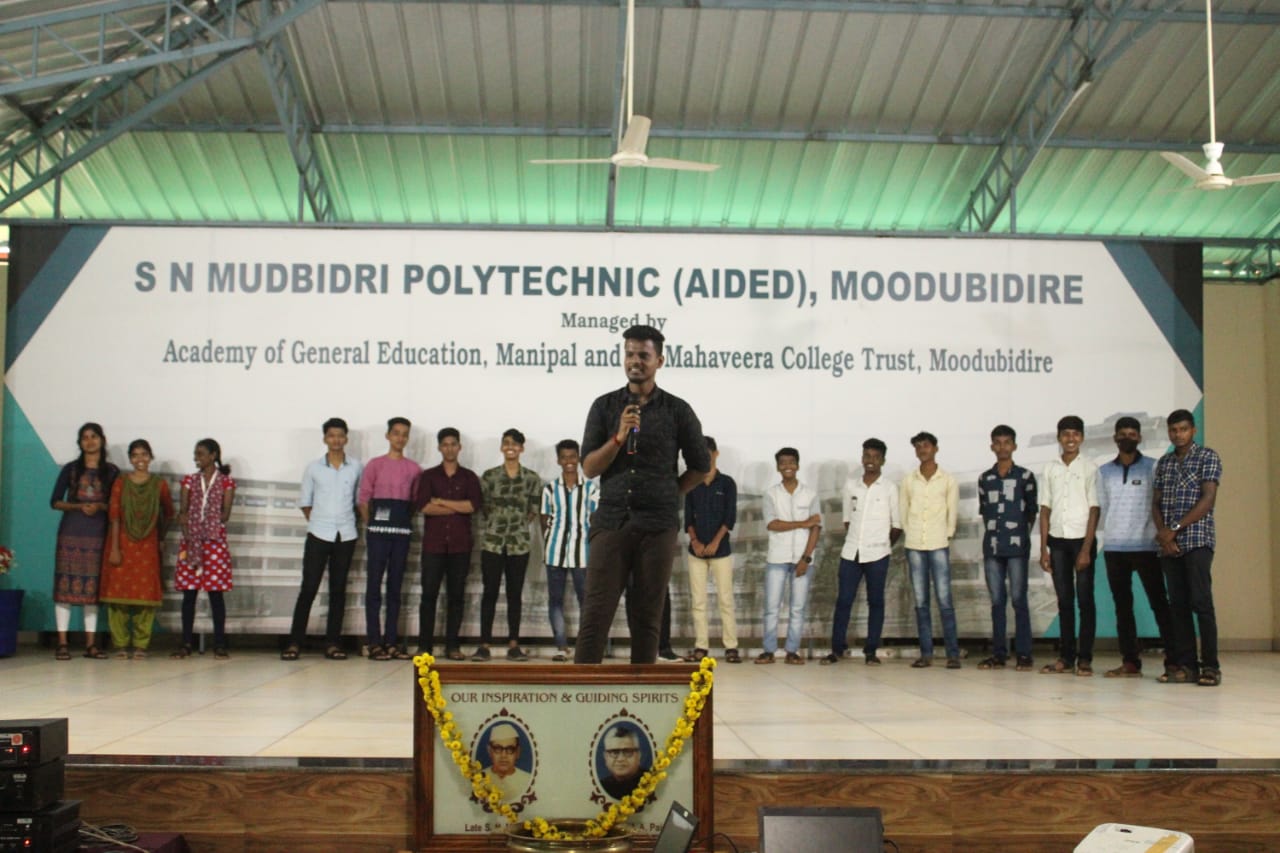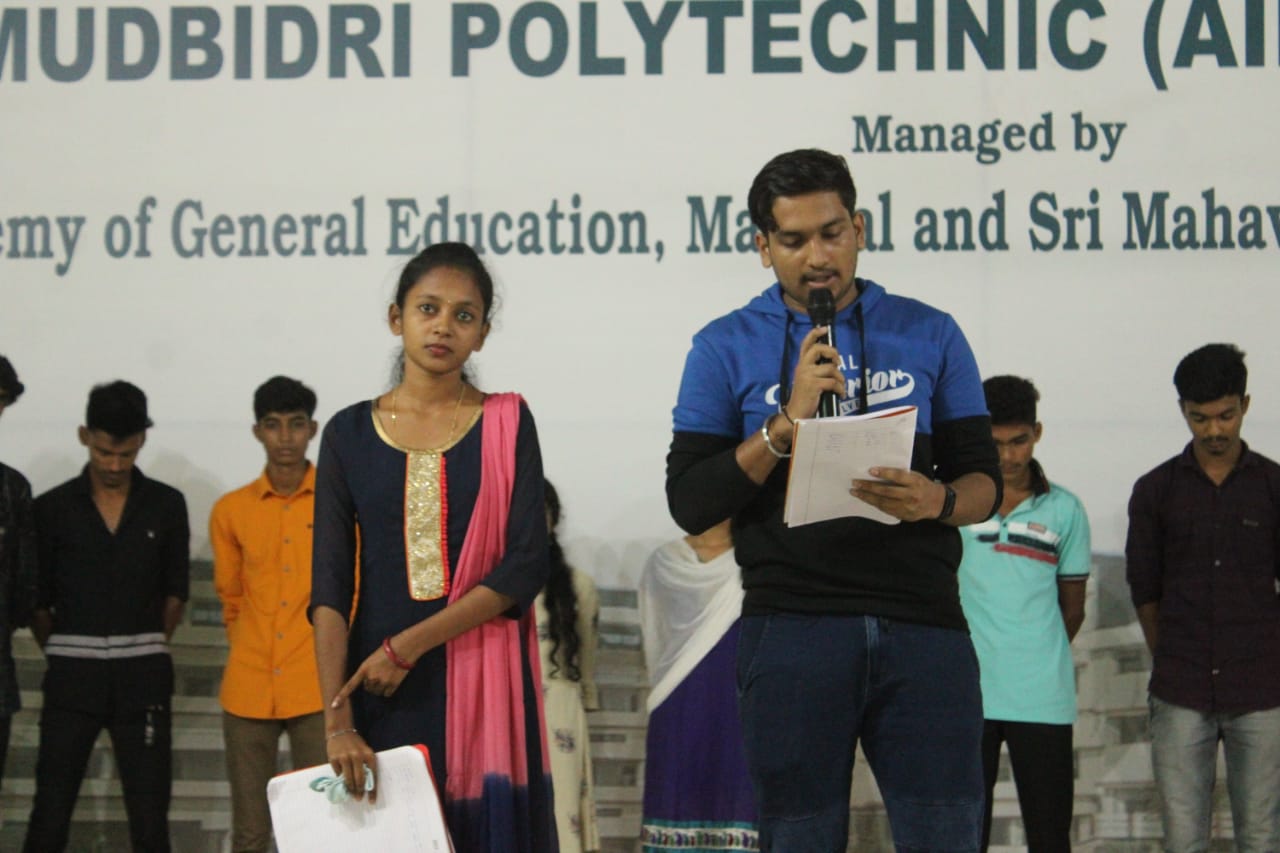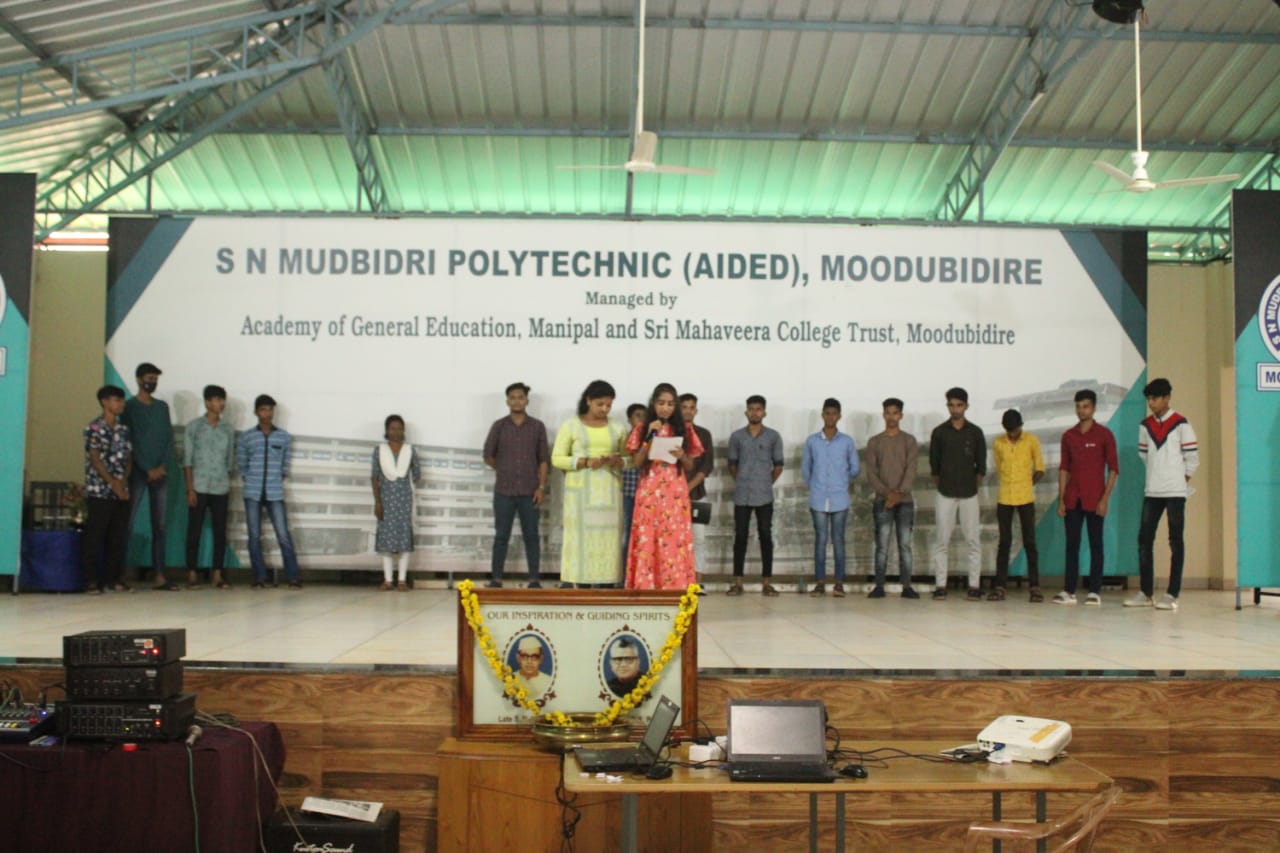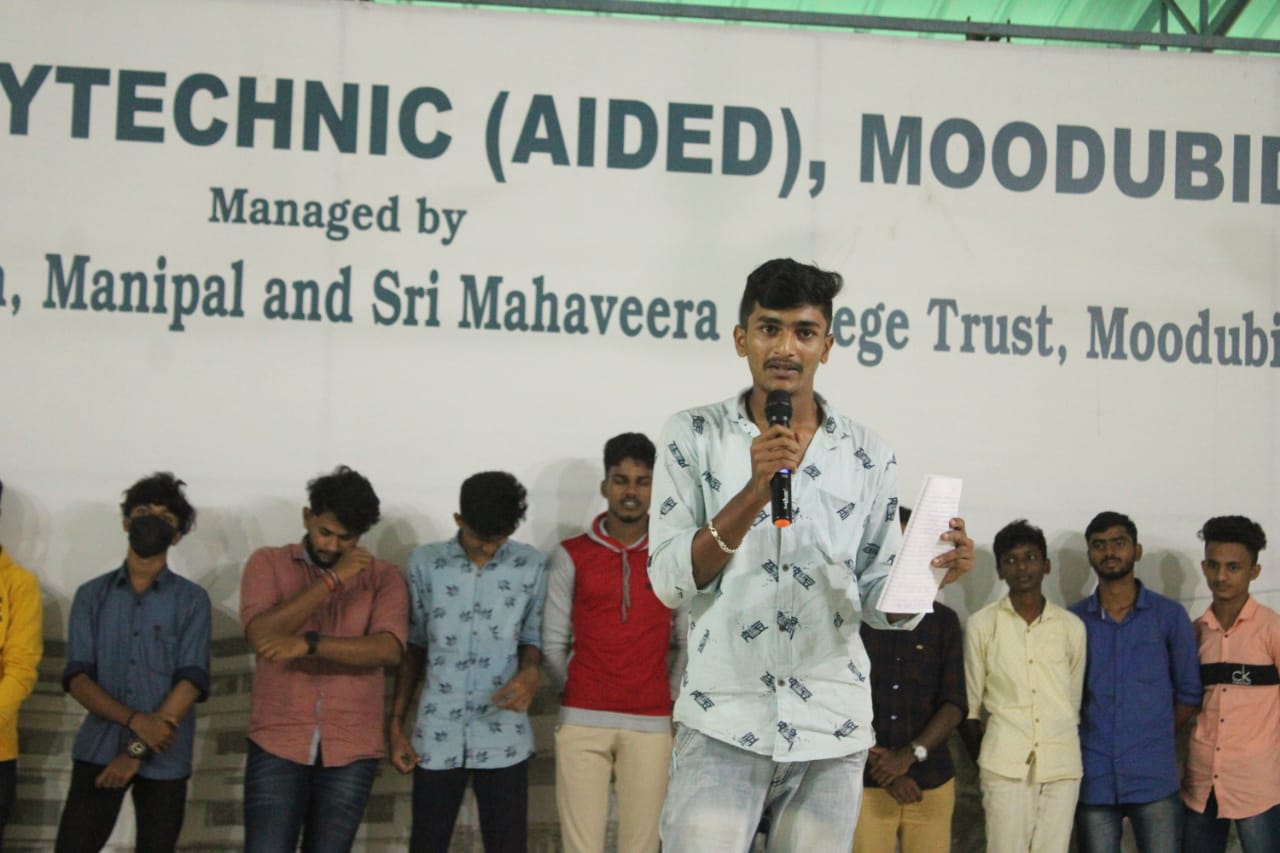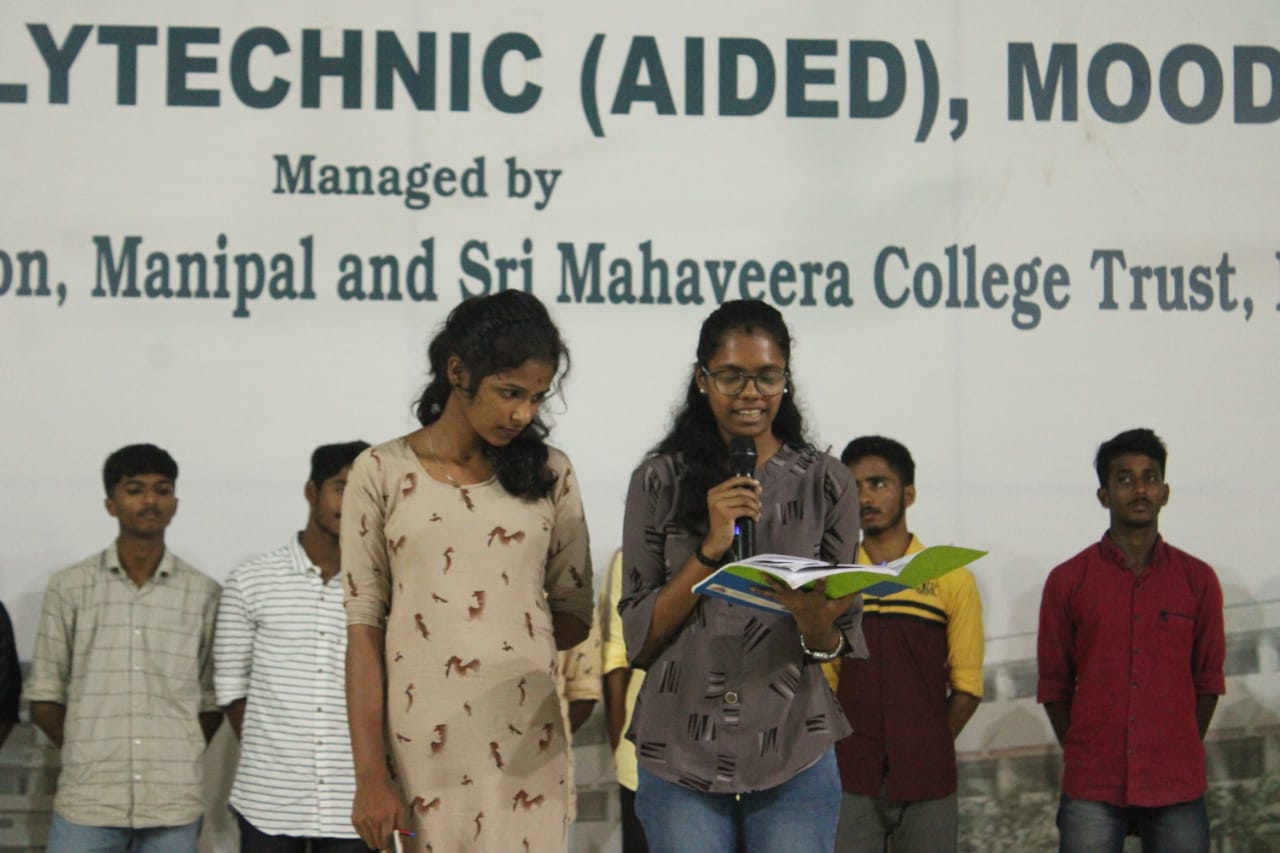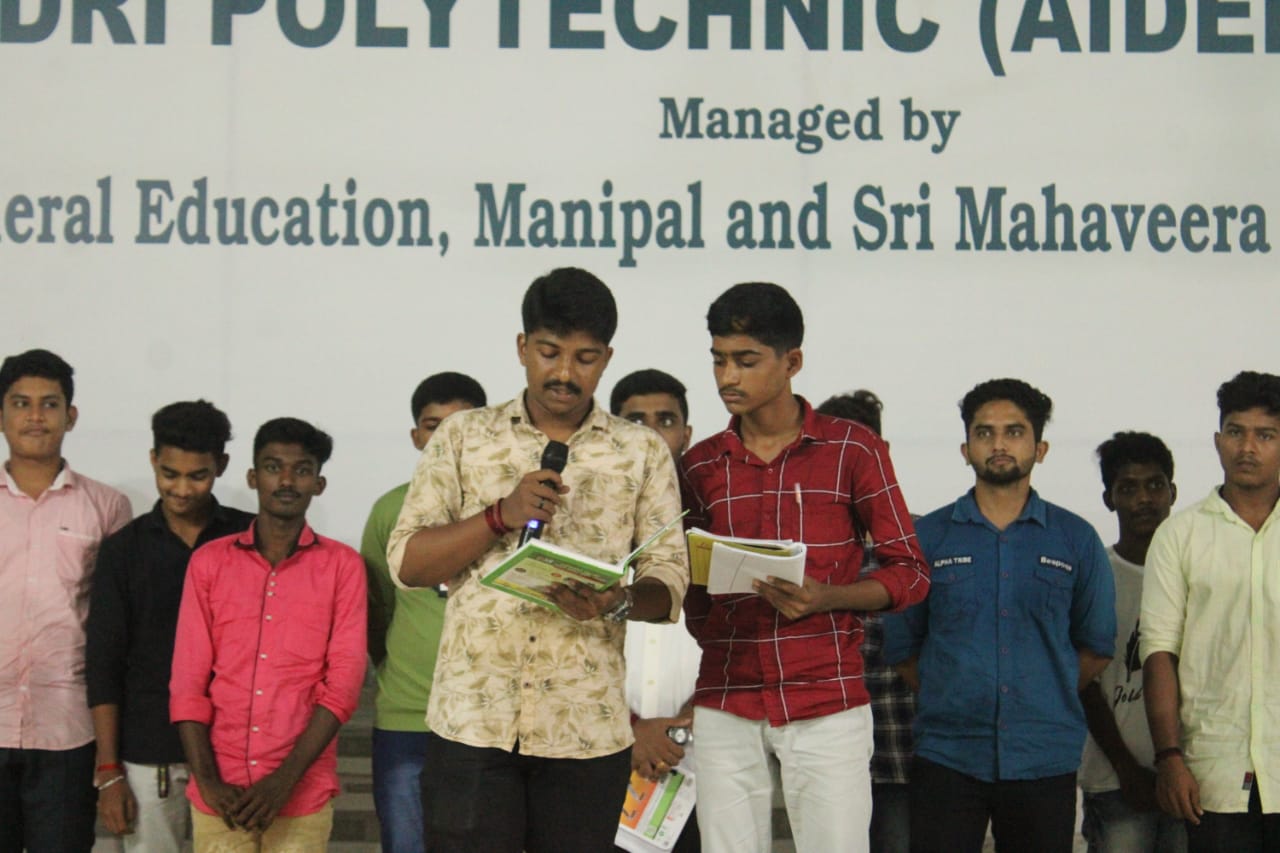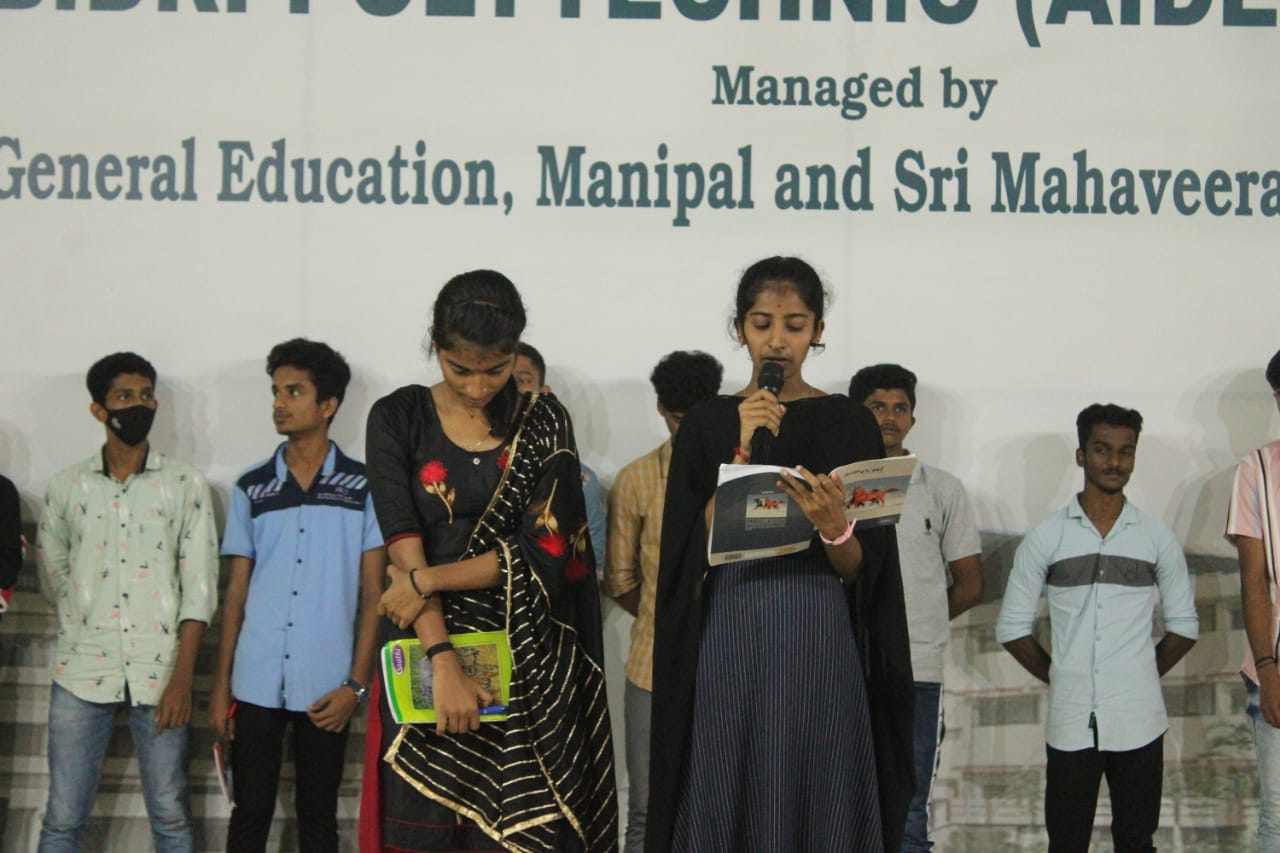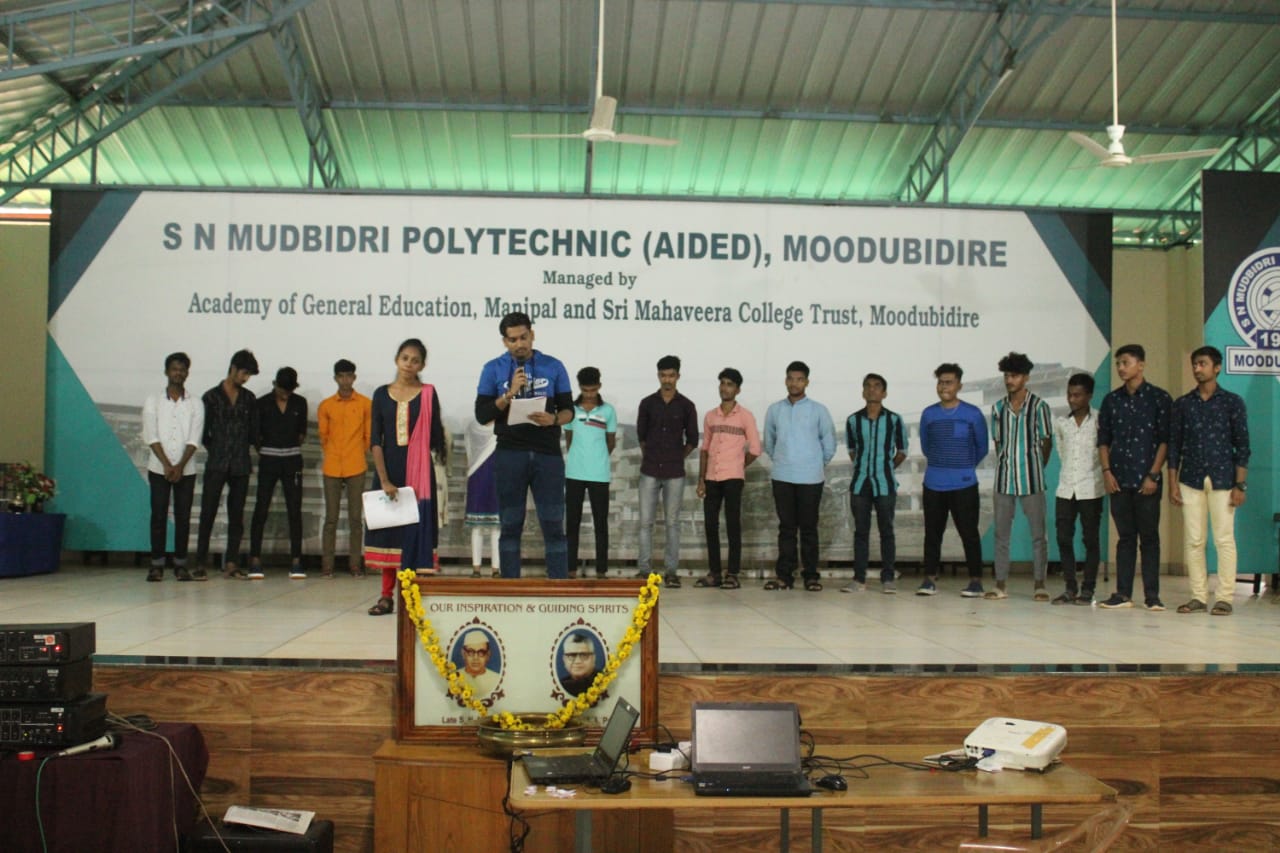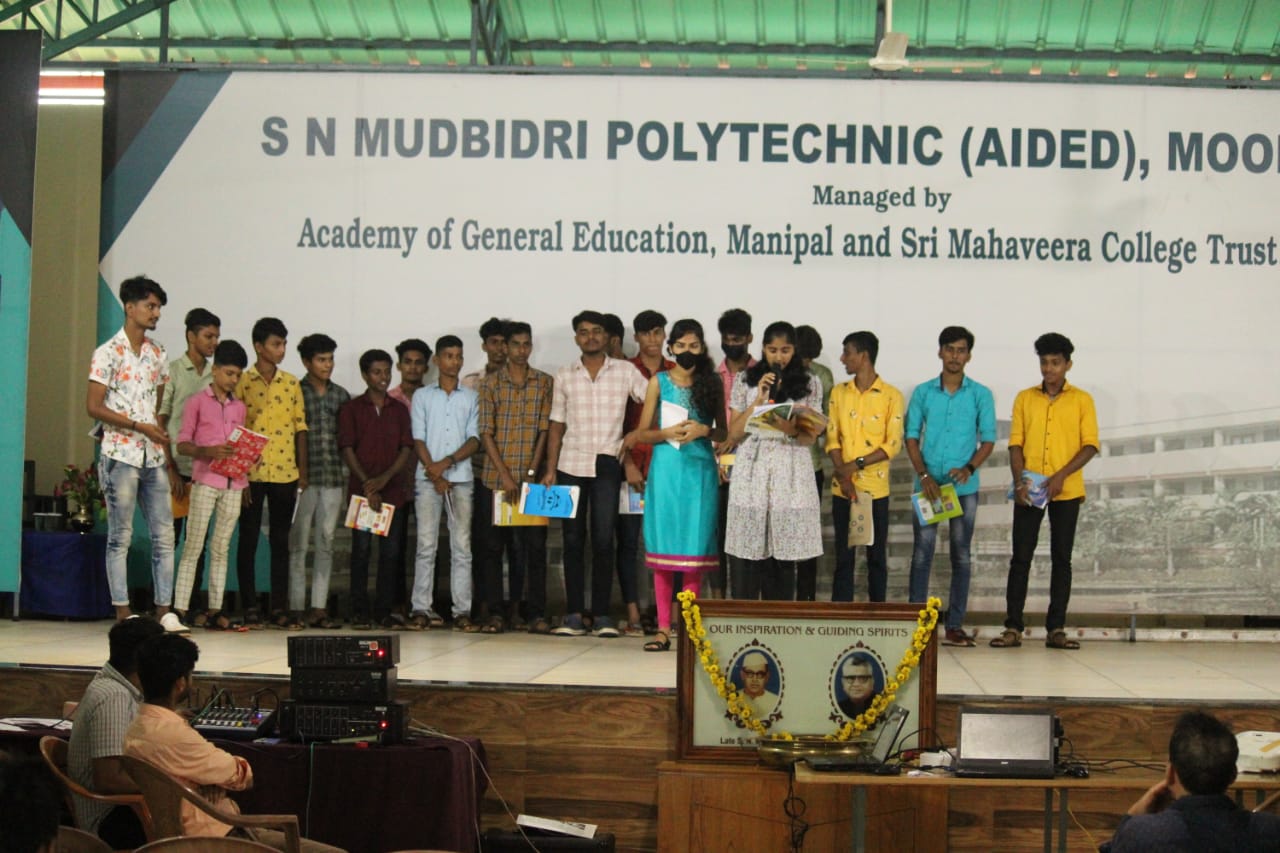 VISIT TO DEPARTMENTS, INTERACTION WITH FACULTY, PRESENT AND OLD STUDENTS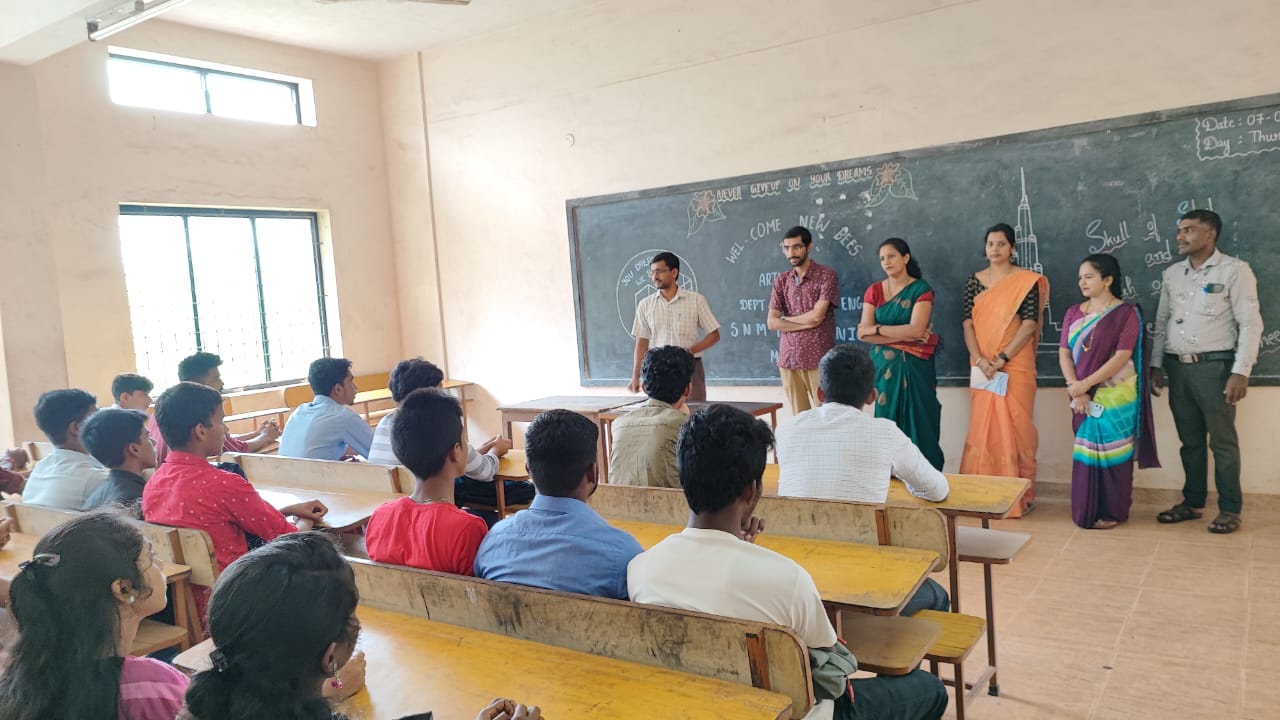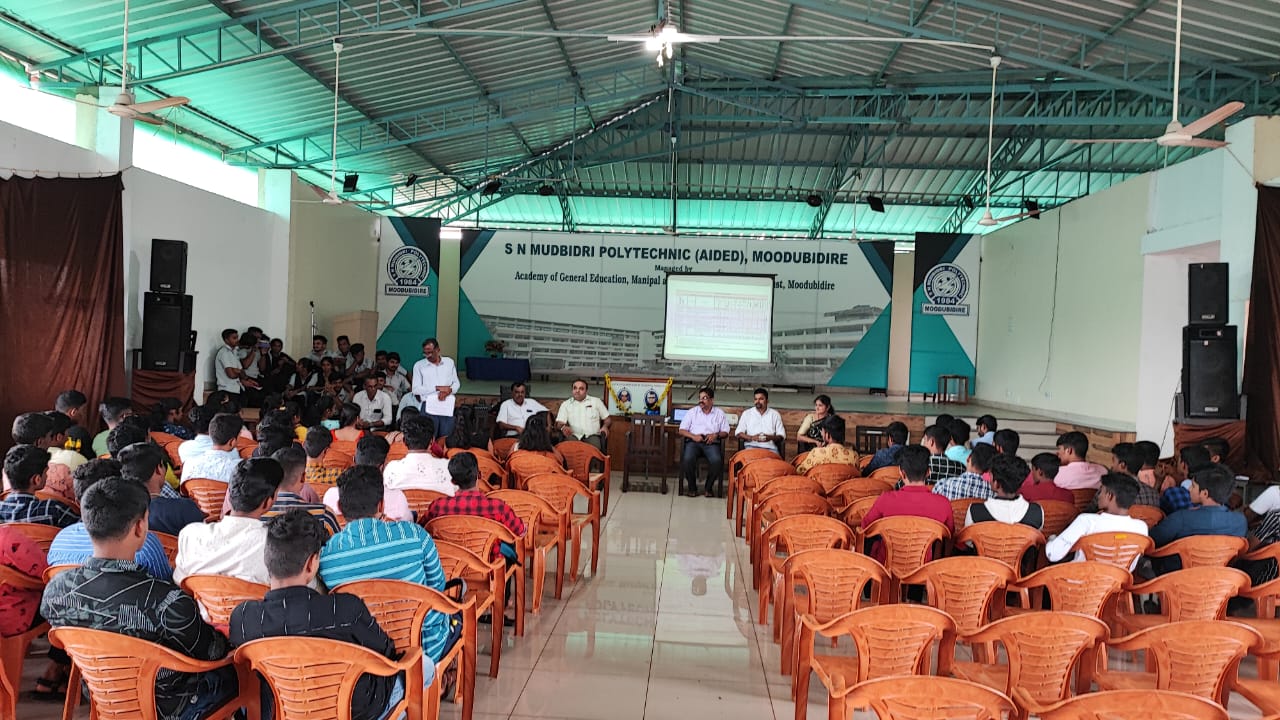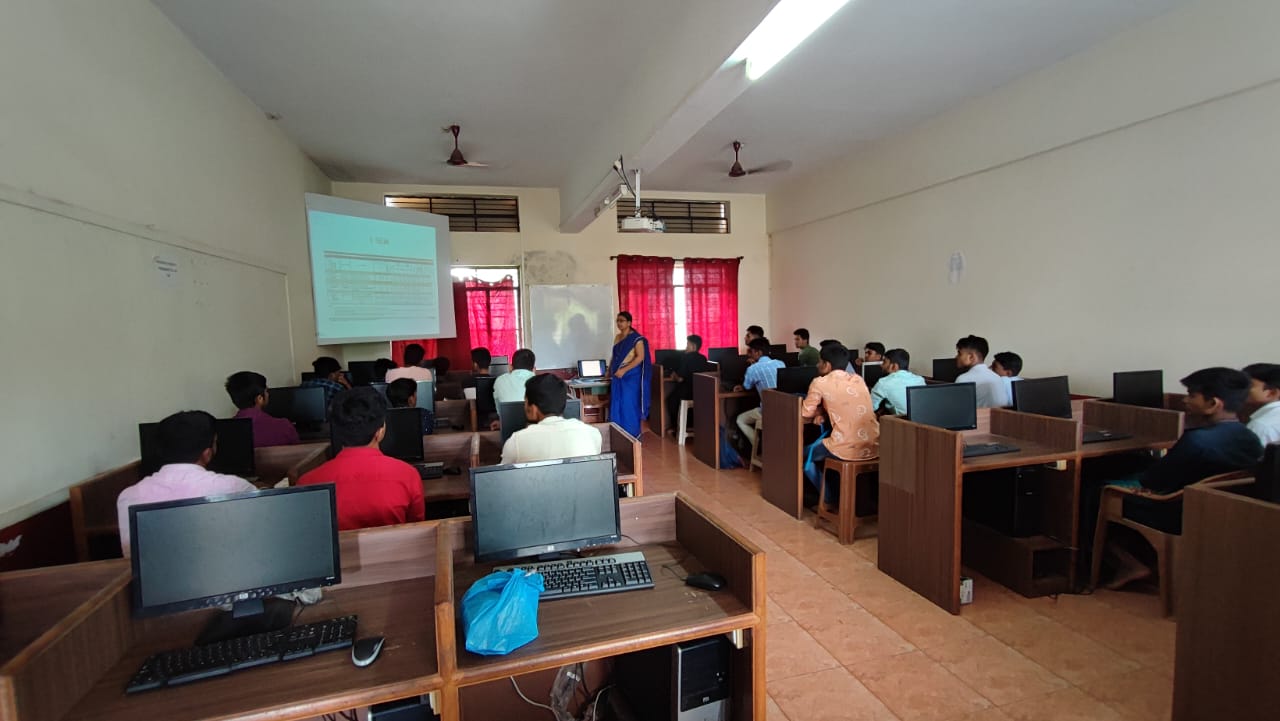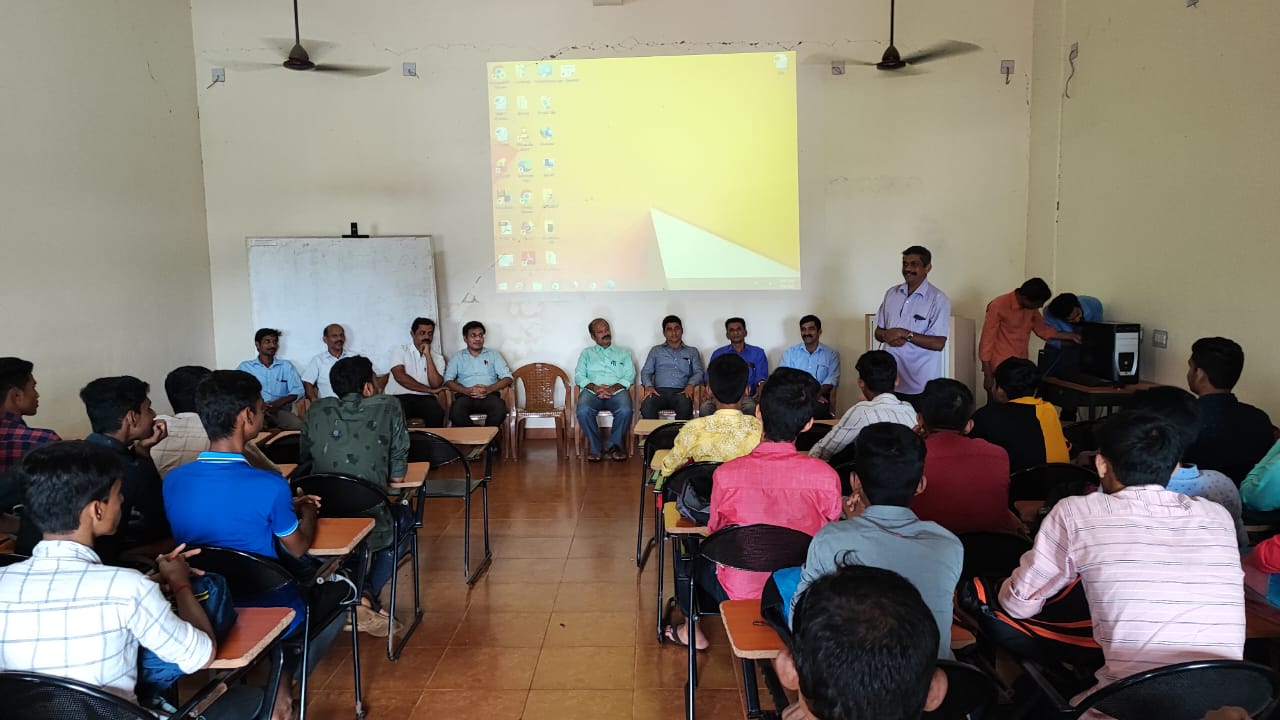 EXPERIENCE SHARING BY OLD STUDENT
PERSONALITY DEVELOPMENT PROGRAMME
VALEDICTORY AND TALENT EXHIBITION
STUDENT VOLUNTEERS FOR SIP 2022
More Events